Thursday, January 31st, 2008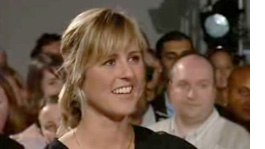 Sabine Schmitz is one name that immediately comes to mind when thinking of the Nurbugring Nordschleife. With around 20,000 laps of the track behind her Sabine is one person eminently qualified to talk about this awe inspiring circuit. Whether it is behind the wheel of the BMW Ring-Taxi, or in front of an audience on BBC's TopGear, she is an entertainer through and through. It is evident in her media work, and even in this interview, that Sabine has a great sense of humour, and in agreeing to speak with AUSringers it is clear she is a good sport as well.
AUSringers: Welcome to AUSringers Sabine, and thanks for being so generous with your time. TopGear was the program that really raised your profile in Australia. When you were instructing Jeremy Clarkson you commented that his driving style is 'really funny', can you usually judge a person's driving technique so quickly?
Sabine Schmitz: I am instructing many people on the Nordschleife or in Spa Francorchamps. Usually I know nearly everything about somebody's driving style when we are half way out of the pits.