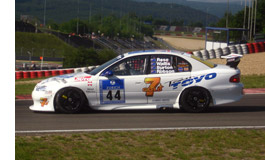 Australian motor racing stalwart Mal Rose will be making his fifth consecutive appearance at this year's Nürburgring 24 hour race, after making his debut in 2004. Not only will Mal himself be there and racing, he will also be overseeing a strong contingent of Aussies in Germany as part of a five car team. The Ring will rumble with the sound of two Holden VY Commodore V8 supercars, as well as two Mitsubishi Mirage Cup cars and a Mazda RX-7. The driving line up includes Mal Rose, Peter Leemhuis, Tony Alford, Ric Shaw and others.
Rose has some very respectable form in one of the world's toughest 24 hour enduros including two previous second place class finishes. He was the first Australian to ship multiple cars over for the event and according to 2006 entrant, Trevor Keene, Rose has 'blazed a trail for Australian teams to go and race at the Ring'.
This year's event takes place from 22-25 May and drivers will take on the Nürburgring grand prix track, as well as the adjoining Nordschleife, making one complete lap just over 25 kilometres. I look forward to Rose's participation in the 2008 event and wish him, and all his team a safe, successful and happy journey.
For more information on the Nürburgring 24 hour race visit the official website. And stay tuned for a special AUSringers report on Trevor Keene's experience in 2006.