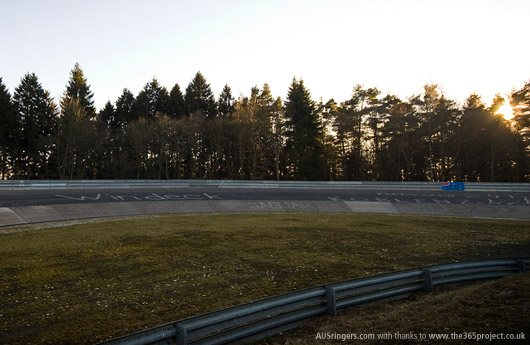 As a fan of the Nürburgring I'm sure you will be familiar with the graffiti on the track. Lately on pictures taken at the Karussell I have noticed an Australian flag painted on the armco. Thanks to Martyn from the Ringers forum I have been able to secure a picture to share with you. (Edit: New pics added 15 February, see end of article.) It's pretty cool to see Aussies reprazent at the Ring like this. From what I can tell the flag has been on the armco for around two years, and I am a bit surprised that others haven't followed this example and painted their own national flag alongside.
If you have any information on who painted the flag and when they did it I would love to know, so please use the comments form below if you can help.

As mentioned I secured the image at the top of this article from a helpful Ring fan and I ask that you check out his blog which will soon have a Nürburgring gallery. He took some great pics on his recent trip, so it should be well worth checking out: www.the365project.co.uk
Update: A big thank you to Jochen from Frozenspeed Motorsport Photography who read this article and passed on the two images below.