The fastest road registered BMW around the Ring. Ever!
That is a mighty claim, but it is one which this 2003 BMW M3 CSL, nicknamed 'Loaded', can boast. The new R35 Nissan GT-R gets around the Nordschleife in 7 minutes 38 seconds. That's faster than the current 911 Turbo. The Koenigsegg CCR can do it in 7 minutes 34 seconds. The new Porsche 911 GT2 can beat the Swedish supercar by 2 seconds. Porsche's finest, the Carrera GT, can beat them all with a time of 7 minutes 28 seconds. But none of these can beat 'Loaded'.
With full TÃœV certification, this road going, supercharged, 2003 BMW M3 CSL has conquered the Ring with a time of 7 minutes 22.8 seconds.
That is quick. Properly quick!
Sweden's Anders Fransson, is the mastermind behind this car and it has taken him around three years to complete his objective of producing a road car capable of lapping the Ring faster than the most exotic of supercars. The ultimate goal was achieved with Swedish touring car ace Richard Göransson behind the wheel. In an exclusive AUSringers interview yet to be published, the two time STCC champion says 'with more development I think we can go fifteen seconds quicker'. That would take the car into sub 7 minute 10 territory!
Here are the car's vital statistics:
2003 E46 BMW M3 CSL
Weight: 1427kg, with driver and 30L fuel
Engine: 3.2 litre straight six with 10.5:1 compression, Vortech watercooled supercharger, extra oil cooling, modified fuel system with catchtank
Output: 390kW at the wheels (532.7whp) / 0.85 bar / 98 octane
Torque: 483.7Nm
Driveline: 3:91 differential, Sachs Sinter clutchkit, 6-speed SMGII gearbox
Brakes: AP Racing calipers, Performance Friction (PFC) discs and PFC racepads
Wheels (front): BBS 10×18 ET 40, Michelin Pilot Sport Cup R 265/35/18, 15mm spacer
Wheels (rear): BBS 11×18 ET 35, Michelin Pilot Sport Cup R 295/30/18, 12mm spacer
Exhaust: Supersprint lightweight racing system with racecats
Exterior: Carbon fibre hood, boot, roof and fenders
Interior: Recaro Pole Position race seats with 6-point harness, FIA-approved lightweight rollcage
Stay tuned for part 2 of this story and read the exclusive interview with the lads who took this car to truly amazing heights and find out how you can be the next owner of 'Loaded'.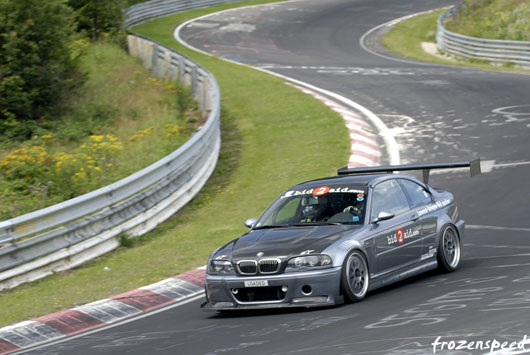 Image courtesy of Frozenspeed Motorsport Photography