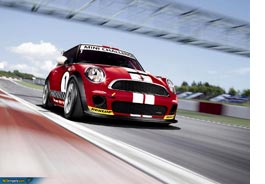 This is one of those rare articles on AUSringers that has a solely Australian focus. In some great news for MINI fans, the 2008 Australian MINI Challenge has secured a superb free to air TV package with Channel 7. There will be a total of seven hours of programming, with the majority being broadcast LIVE into households across Australia. The first event will be at Eastern Creek in just a few weeks with race 3 on Sunday 9 March attracting live coverage.
Read the official press release and broadcast dates below for more information.
[start release]
HUGE TV PACKAGE FOR MINI CHALLENGE IN 2008
The first ever MINI CHALLENGE in Australia has attracted over seven hours television coverage, with the majority of that being LIVE on the Seven Network through V8 Supercars television, including two races from Bathurst.
In a massive coup for the new Series, races two and three from the return of MINI to Mount Panorama will be shown live as part of Channel Seven's extensive Saturday coverage of the Super Cheap Auto 1000.
MINI CHALLENGE charges into life at Eastern Creek across the weekend of March 7-9 and the third race on Sunday, March 9 will be beamed live into lounge rooms right round Australia.
The newest one make phenomena to hit Australia will whet the appetite of race fans throughout the country as the curtain-raiser to the Phillip Island 500 in September, whilst events at Barbagallo, Symmons Plains and the V8 Supercars Farewell to Oran Park in December will also attract live coverage.
All rounds except Symmons Plains – which has two races shown live – will carry a half hour post-produced program and a leading V8 Supercars personality is expected to be announced soon as the colour commentator for the MINI CHALLENGE television coverage.
Chief Executive Officer of MINI CHALLENGE – Theo Psaros – couldn't be happier with the confirmation of the MINI CHALLENGE television schedule.
"It's fantastic that we have been able to secure such a great package from V8 Supercars television, particularly in the first year of MINI CHALLENGE," he said. "With the news last week of record ratings for V8 Supercars during 2007 on Network Seven, the platform has been laid to increase that further in 2008.
"MINI CHALLENGE will be a spectacular addition to the national motor racing scene if the Series' in other parts of the world is any indication and race fans across the country will get to share in that through this magnificent television package we have secured."
[end release]