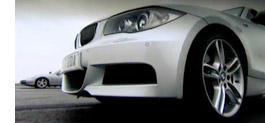 Episode five of the current series of Fifth Gear featured the much anticipated comparo between the BMW 135i and the Porsche Cayman (see two part youtube clips below). A short interview with Moto-X legend and rallying hopeful Travis Patrana showed some of his amazing career highlights. The second hand star saw Johnny looking for the best deal under £2400, I'd take his Mk2 Golf GTI 8 valve I reckon. And there was a bunch of daft scooters as well.
Other cars featured in Episode 5 include:
Renault Twingo GT v Fiat Panda 100hp at Anglesea
Land Rover Freelander v Nissan X-Trail
BMW 135i v Porsche Cayman

Two part youtube clips below of 135i v Cayman piece.