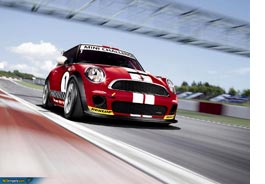 The Australian debut of the 2008 MINI Challenge series is just days away, with the Eastern Creek round being held this weekend. This morning's emails revealed the following press release from BMW which on the surface sounds quite good, but perhaps paints the MINI Challenge as some sort of quaint novelty. Time will tell I suppose, but you can draw your own judgement on plans for the series to run an 'UBER-STAR CAR' featuring a different high profile driver for each round. First cab off the rank, so to speak, is well known V8 Supercar driver Jason Bargwanna.
Read the full release below.
[start release]
Jason Bargwanna rising to Eastern Creek MINI Challenge
03/03/2008
Former Bathurst 1000 winner, Jason Bargwanna, will become the first of several guest drivers to suit up in the MINI CHALLENGE 'UBER-STAR CAR' when he joins the Series for it's first ever race meeting on March 7-9 at Eastern Creek.
35-year-old Bargwanna will join the grid for the opening round, which doubles as the worldwide racing debut for the R56 model MINI John Cooper Works CHALLENGE racecar. He will drive the MINI CHALLENGE 'UBER-STAR CAR' – a car that will feature a high profile driver at each round, chosen for their ability to add a new dimension to the series and to capture the attention of the crowd and those who love the MINI legend.
After an 11-year career in V8 Supercars, to drive in MINI CHALLENGE will be a seachange of sorts for Bargwanna – but not that far removed from his heritage as the son of Harry Bargwanna – a racer of note from when the MINI legend first started in Australia – who, in fact still races against MINI race cars in historic racing.
"I think it's an exciting category with great growth prospects," said Jason. "Everyone has a story about MINI. Guys my age have heard their old man talk about MINI racing at Bathurst in the 'good old days' and we remember watching them when we were kids. Personally, my kids are more excited about me racing a MINI than they are a V8 Supercar!
"I've had a look at the cars and they are fantastic, it looks like it will be a lot of fun," he enthused. "The results attained by the team that built the car (BMW Motorsport's WTCC Team) speak for themselves and piloting the MINI John Cooper Works CHALLENGE car at Eastern Creek on its worldwide racing debut will be a great experience.
"I have had good success at Eastern Creek in the past, it's a real driver's track and hey, if it's good enough for Alex Zanardi to race a MINI, then it's good enough for me!"
Bargwanna is known as one of the leading personalities in Australian motorsport and having him aboard MINI CHALLENGE for the first round will assist in enhancing the Seven Network's coverage of the event.
Justin Hocevar, National Manager MINI Australia, said Jason would bring further crowd appeal to the event as one of its 'celebrity' drivers.
"The MINI is renowned for its competitive racing spirit and Jason has this quality in spades," Justin said.
"He rings bells with the crowd whenever he is driving, so the MINI legend will roll on with him at Eastern Creek.
"Jason is the first in a long line of well known people from an incredibly diverse background that have approached MINI to jump aboard MINI CHALLENGE this year."
The third race from Eastern Creek on Sunday March 9 has attracted live coverage, as six of the eight round Series will.
The MINI CHALLENGE UBER-STAR CAR will be operated by the Bib Stillwell MINI Garage team. This team will have two sister cars in MINI CHALLENGE – being piloted by Michael and Chris Stillwell – sons of the legendary Bib Stillwell – respectively.
[end release]