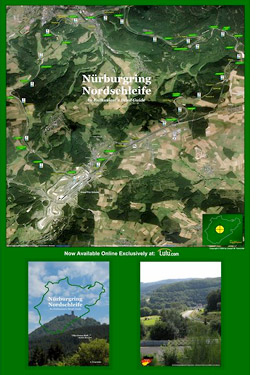 Following my earlier review of Nürburgring Nordschleife: An Enthusiast's Bend Guide the author sent me a review copy of his poster, based on the one originally used to promote the publication. I received the Large size (21.3" x 32" or approx 540 x 810mm for metric readers) and a new "photo glossy" paper option was used.
At first I was skeptical that the image quality would hold at this size. However the print reproduction is quite impressive. It is definitely suitable for its intended use and should look great hanging on your wall of choice. The "photo glossy" paper also appears to be of a very respectable quality and is a light card weight, around 250-300gsm I would guess. As with the Enthusiast's Bend Guide the packaging is first rate (FedEx international economy was used) and it is unlikely that your poster would be damaged in transit. The labelling of the Nürburgring corner names and kilometre signage is a nice touch as well.
As Molly Meldrum would say, "do yourself a favour" … copies of the poster are available from the imagekind website.