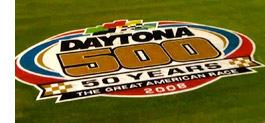 Episode eight rolled off Fifth Gear's production line last night. Starting off at Anglesea, as usual, was another pointless comparison, as usual. This week saw a Porsche Cayenne GTS against a BMW X5 4.8 V8. And just in case you want to know which SUV is quickest around the track, which of course you do, then get the Porsche.
Quite why the producers didn't set Vicki on the track with the new Honda S2000 GT and Nissan 350Z GT is anyone's guess. Actually, it was probably a good call as it was as plain as day that we'd be told the S2000 would make the best accessory du jour for all high street hairdressers.
Chemmy Alcott can ski better than she can drive. And at least when she is skiing she's not making an arse of herself.
Citroen have bottled it and tried to make a German C5, so expect that to sell as well as the outgoing French one, even if Tom reckons it's a quantum leap forward.
Jonny and Tiff actually do a damn good job of making NASCAR seem interesting with their Daytona 500 report. If only the cars turned right from time to time.