Sydney's Mal Rose, from The Supercar Experience, is all set to, once again, lead an Australian contingent to the Nürburgring 24 hour race (May 22-25). This will Rose's fifth consecutive appearance at the German enduro event and this year he will driving a newly acquired ex-Garry Rogers Motorsport VY Commodore. Mal will share his drive with Peter Leemhuis and Tony Alford, both will be lining up for their third start in Nürburgring race. This trio of drivers have some healthy enduro credentials, with class wins at the Dubai 24 hour (2007) and Malaysia 12 hour (2006) events behind them. Mal Rose Racing also claimed 2nd in class (SP2) at the 2005 and 2006 Nürburgring 24 hour race, so, no doubt, the lads will be attacking this year's race with great expectations.
The 1350kg VY Commodore has a 5.0 litre Chevrolet V8, coupled to a six-speed sequential Hollinger gearbox. It will be rolling on 18″ OZ racing wheels fitted with Toyo tyres. The long Döttinger Hohe straight should see the V8 Supercar reach its 295km/h v-max. The use of carbon fibre for the bonnet and front guards saves 15kg. The team will also be taking along a specially designed bonnet fitted with xenon lighting for night racing (see image above).
Also tagging along for the ride in Mal's custom built shipping container are two Mal Rose Racing Mitsubishi Mirages and Ric Shaw Racing's RX-7. The Mirage teams will be headed by all Australian driver lineups. All of whom will be making their Nordschleife debuts and will therefore be taking part in compulsory training days on the Tuesday and Wednesday before the event proper.
The 2008 race will see the largest assault yet by Australian teams/drivers on the famously tough endurance event. Many can thank Mal Rose himself, as he has now introduced around 25 drivers to the 'Green Hell', since making his first attempt back in 2005. Mal found inspiration for tackling the Nürburgring race after the demise of the Bathurst 24 hour and the decision to no longer accept privateer entries into Bathurst's blue ribbon 100km enduro.
I'm sure I speak for all readers of AUSringers by wishing Mal Rose Racing, and all Australians competing at the event, a safe, successful, and most importantly, fun Nürburgring 24 hour race. Good luck guys!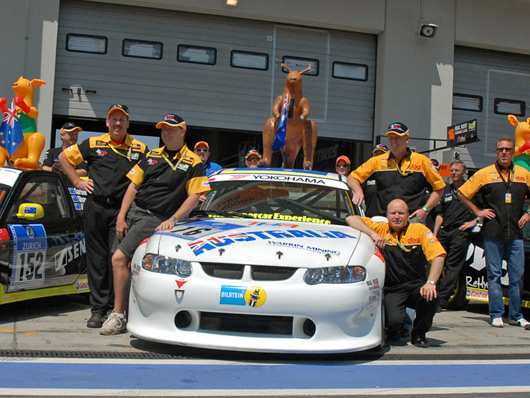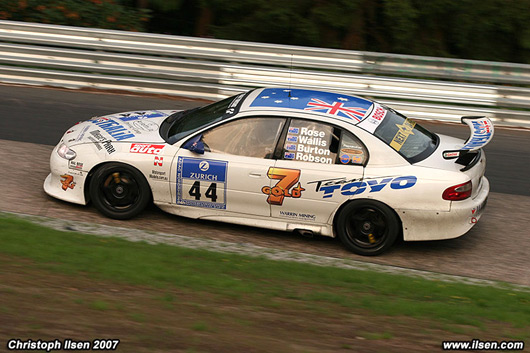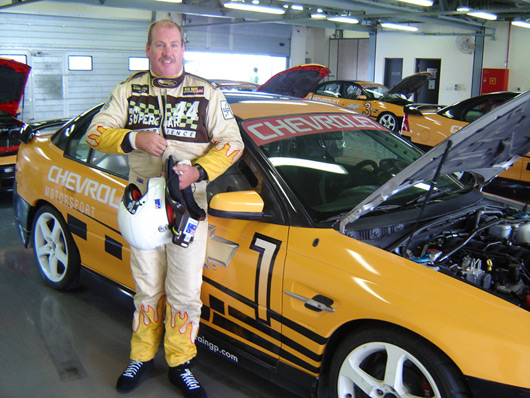 Picture captions (top to bottom):
VY Commodore during testing at Oran Park (note night racing xenon lights fitted to bonnet).
VY Commodore during testing at Oran Park.
Mal Rose Racing at 2006 Nürburgring 24 hour (V8 Drivers L to R Mal Rose, Kevin Burton, Adam Wallis and Anthony Robson, kneeling).
Mal Rose Racing VX Holden V8 at the Karussel during 2007 Nürburgring 24 hour.
Mal Rose with winning Lumina CSV support racer at 2007 Dubai 24 hour (an Australian built Holden sent over for one make series).
Mal Rose Racing Mitsubishi Mirage during 2007 Nürburgring 24 hour.