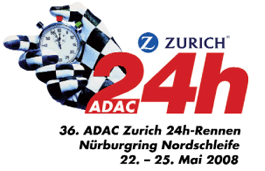 There's just two weeks to go until the running of the 36th Nürburgring 24 hour race, or as the sponsors would prefer it be called, the ADAC Zurich 24 hour race. The green flag drops at 3pm on Saturday 24 May for the main event, with qualifying sessions taking place from 9:25am-10:55am and 7:35pm- 11:30pm on Friday 23 May.
Other events taking place in support of the 24 hour include the ADAC Procar MINI Challenge, the ADAC GT Masters, the ADAC Formula Masters, the ATS Formula 3 Cup and the ADAC Chevy 'Egons 500', with a few demo laps thrown in for good measure. Judging by the footage shown from the 2006 event, as shown in Mal's Big Green Hell, these demo laps can get a little bit wild!
A full schedule of events can be downloaded HERE (880kb PDF).