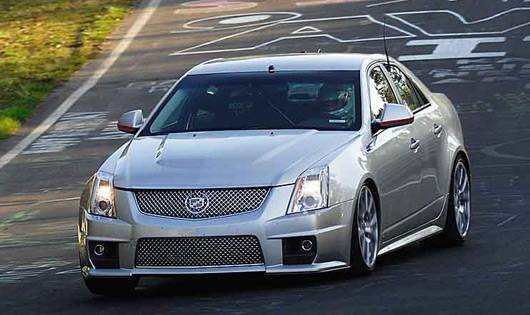 American car. Nordschleife. Record. Hmm, okay, this is not a joke, a 2009 model Cadiallc CTS-V with GM Performance Division's John Heinricy behind the wheel has reportedly lapped the Nürburgring Nordschleife in under 8 minutes, or 7:59.32 to be precise. This time is now being claimed as the fastest ever lap around the Nürburgring by a standard production model 4-door sedan.
With a 6.2 litre supercharged V8 producing around 550bhp (410kW) at 6,200rpm and over 740Nm of torque the CTS-V certainly has the power to produce a sub-8 minute lap. But the handling? The car has been seen previously undergoing testing at the Nordschleife and the new Caddy is still in the latter stages of development. It is believed the car driven by Heinricy was as production-ready as could be with no modifications or enhancements that won't make the final production model.
The spiel from GM's press department says all the right things:
"CTS-V's mission is to attract the most discerning and enthusiastic luxury and performance car consumers," said Jim Taylor, Cadillac general manager. "That requires a comprehensively excellent car, one that looks and performs like a top-level sports car but has the poise and elegance of a prestigious luxury sedan."

Technologies including Magnetic Ride Control, a racing-inspired Performance Traction Management program and an advanced Brembo braking system combine to make CTS-V a sophisticated, high-performance car. The development team, building off of the acclaimed CTS sedan and previous-generation V-Series cars, tirelessly fine-tuned the car on some of the world's most demanding and legendary environments, including Germany's famed Nürburgring, and roads and tracks throughout the United States and Europe.
Cadillac will be releasing video footage of the lap in the next few days.
Source: Edmund's Inside Line