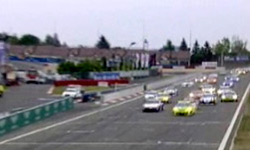 The 36th running of the Nürburgring 24 hour race has just begun. LIVE streaming is now available on the official ADAC website. A live video feed is also available on the Radio Le Mans website.
High drama has already engulfed the race with the Manthey Racing 911 having engine problems on the first lap. The #1 car started from pole position for the third year running and the Manthey team were aiming for a third successive race win to go with their triple pole effort. However, just moments after crossing the start line smoke started puring from the 911's engine bay. This left the #2 Dodge Viper GTR-S in the lead. However, this car also had troubles and came into the pits early. The Volkswagen Sciroccos qualified in first, second and fourth places in their class, but the #117 entry (Stuck, Sainz) had problems during the warm-up lap. It is unclear what the issue was, but Hans-Joachim Stuck, who was at the wheel, seemed to get the car running again.
More screen grabs from the warm-up lap and race start can be seen below. And just as a reminder of what diverse range of cars are taking part in this great race, make sure you see the last image in the set!
A full list of race positions can be seen HERE.
Warm-up lap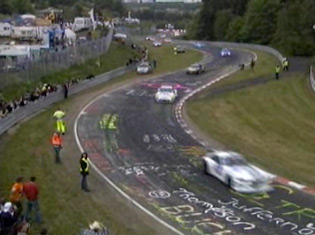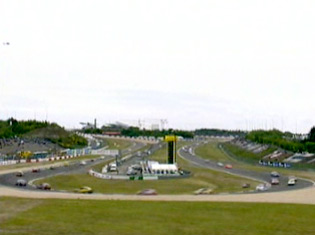 Race start with Manthey Porsche in pole position