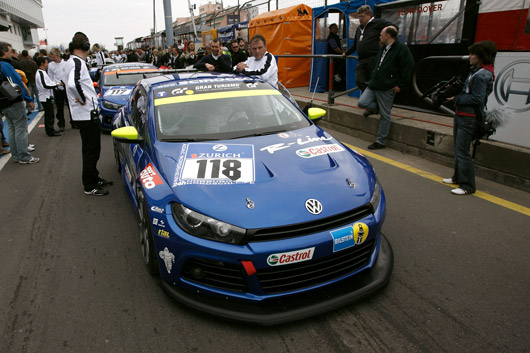 This is the second and final image gallery of the Volkswagen Scirocco GT24s as seen at the 2008 Nürburgring 24 hour race.
See below for quotes from the drivers, as well as Volkswagen's press release, and, of course, more images. Remember to click on each image for a 2000px super image.
Perfect premiere: One-two for new Scirocco GT24
Wolfsburg (25 May 2008). The new Volkswagen Scirocco GT24 celebrated its race premiere with a one-two in its class at a well attended 24-hour race at the Nürburgring.
In front of a crowd of about 200,000 spectators the brace of 325 hp Sport-Coupés driven by Jimmy Johansson (S), Florian Gruber (D), Thomas Mutsch (D) and Hans-Joachim Stuck (A) and Carlos Sainz (E), Giniel de Villiers (RSA), Dieter Depping (D) and again Hans-Joachim Stuck (A) claimed first and second positions in the well-represented class for cars with two-litre turbo engines.
In a field of 219 cars and in front of innumerable more powerful sports and touring cars the teams occupied positions 11 and 15 overall. The third factory entered Coupé of Dr Ulrich Hackenberg (D), Bernd Ostmann (D), Matthias Malmedie (D) and Altfrid Heger (D) completed the first sporting success of the new Scirocco, which is available from dealers in August, with fifth position in class and 32nd overall.
"A great result for the new Scirocco: The one-two in class and eleventh overall in the 24-hour race underlines the sporting dynamic and reliability of the new Volkswagen Coupés," explained Dr Ulrich Hackenberg, Volkswagen Board of Management of the Volkswagen Brand with responsibility for Development. "I want to thank everyone who supported this ambitious and courageous project to race the Scirocco before its market launch in one of the hardest events in motorsport." Volkswagen Motorsport Director Kris Nissen was also extremely satisfied: "The Race-Scirocco was developed, built and tested in only 75 days. To get three cars to complete the entire distance on one of the world's most demanding tracks first time out, and without serious problems, speaks volumes for the excellent performance of the entire team."
The eleven Volkswagen drivers praised the front-wheel drive Race-Scirocco with 2.0 litre TSI engine and DSG Direct Shift Gearbox: "Sensational just how fast and indestructible a brand new car like the Scirocco can be. I would have preferred to have done another few hours," says Hans-Joachim Stuck, Motorsport Representative of the Volkswagen Group, excitedly. Two-time Rally World Champion Carlos Sainz drove first ever 24-hour race: "The race at the Nürburgring is a genuine challenge. The Scirocco made it very easy for us drivers to run quickly and safely in both wet and dry conditions," explained Sainz.
The three brand new Sciroccos, which completed in their very first race, impressed with enormous reliability and fast lap times—they set the pace in qualifying with positions one, two and four. During the race, in addition to the normal pit stops, only three unscheduled stops were made (servo pump change on #116, a tyre failure on #117 and a loose under body on #118).
A convincing début in the 24h-race was also celebrated by the R-Line Golf GTI powered by natural gas: the 320-hp car with front-wheel drive piloted by Thomas Klenke (D), Mario Merten (D), Kai Jordan (D) and Peter Terting (D) had firmly established its place among the top 20 at night before a piece of debris from a preceding vehicle damaged the gearbox housing, which required a time-consuming exchange of the DSG double-clutch gearbox. In the end, the R-Line Golf saw the chequered flag in 99th place overall, having proved the high reliability and efficiency of the natural gas concept straight from the start.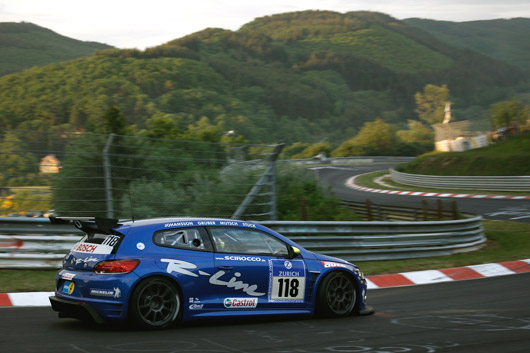 #118 Hans-Joachim Stuck (A): "It's a very emotional win for me. Actually, as Motorsport Representative for the Volkswagen Group I didn't want to race any more—and now this one-two: absolutely fantastic. What really impressed me is that the Scirocco was just as quick at the end as it was at the beginning—I've only ever seen this with just a few race cars. The new Scirocco was one of the highlights of the race, it couldn't be any better. Everyone who has already ordered a Scirocco can already look forward to owning a fantastic car."
#117 Carlos Sainz (E): "This race weekend really exceeded my expectations. The Nordschleife, the many fans and this fantastic car—if the opportunity presents itself again then I'd love to be a part of the team next year."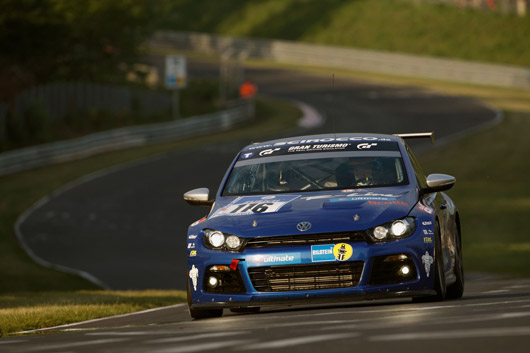 #116 Bernd Ostmann (D): "A fantastic team performance! This victory is even more impressive when you think that it was achieved before the Scirocco goes into production. I really felt at home in the team and car, it was good weekend all round."