Here are a few images from the 1936 German Grand Prix, held at the Nürburgring Nordschleife. The race was won by Bernd Rosemeyer driving an Auto Union Type C (pictured above).  It was a one-two victory for the Auto Unions, with Hans Stuck, father of Hans-Joachim Stuck, claiming second place. The final podium position was claimed by Antonio Brivio behind the wheel of a Alfa Romeo 12C-36.  Rosemeyer was the first Grand Prix driver to lap the Nordschleife in under 10 minutes. He married a young flying ace named Elly Beinhorn and this union inspired him to take up flying himself. A man before his time he used his new found skills to fly a private plane to a test session at the Nürburgring, landing at the airfield that could then be found near the Flugplatz section of the Nordschleife and coasting up to pit lane. His quest for speed ultimately cost him his life when he was killed attempting a world record speed attempt on the Autobahn—between Frankfurt and Darmstadt—driving an Auto Union Streamliner. To this day a memorial resides near the piece of road that claimed his life.
Also pictured below is Rchard Seaman driving a Maserati. He did not finish the race in 1936, but did go on to win the 1938 German Grand Prix driving a Mercedes-Benz W154. The other picture below was originally thought to be another image of Bernd Rosemeyer, but while the car is definitely an Auto Union, the number is different. According to the Wikipedia article for the 1936 German Grand Prix car #18 was a Daimler-Benz driven by Louis Chiron. So, the identity of the third image remains a mystery for now. If you can help identify it please leave a note in the comments section below.
For our German readers there is a YouTube treat at the end of this article.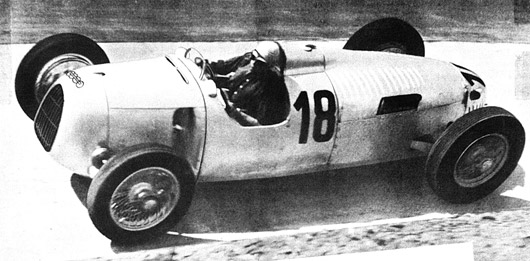 Below is a brief clip of Bernd Rosemeyer, including a short interview (in German) with Bernd Rosemeyer Jr, born just a couple of months before his father's fatal accident.