Following on from Peter McKay's report on his experience at the 1997 Nürburgring 24 hour race is his report from the 1998 race. First published in the September 1998 issue of Australia's Wheels magazine, it's actually a very good read and tells the tale of how an Australian with a bit of vision, and a lot of cash, became the first person to race a New Beetle. And quite probably the first to build a New Beetle Turbo as well! The hunt for an engine and lack of support from Volkswagen especially interesting. Sadly, for McKay at least, it also tells of his experience of driver error and the unwanted claim of being the first person to crash a New Beetle while racing. The accident wasn't terminal and the team's crew battled hard to make things good ensuring all drivers had some meaningful time behind the wheel. In true enduro racing battler fashion the New Beetle was there when the chequered flag dropped, albeit a bit further down the field than planned.
This article runs over three spreads and the following two are shown below, click on each image for larger versions.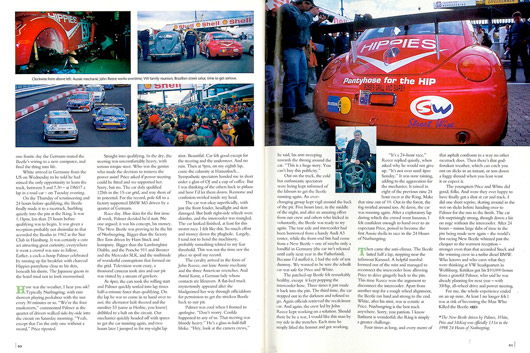 Thanks to Bryan for sending this in.