Watching other people lap the Nürburgring Nordschleife is almost as much fun as lapping it yourself. Almost! If you're making the trek to the Ring from Australia, or anywhere really, I highly recommend setting aside some time to just watch the cars go by. To do that you need to know how to access the best places to watch. Some spots, such as Pflantzgarten, Brünnchen and Breidscheid are very easy to get to. Others, like Adenauer Forst (pictured above) and the famous Karussell, require a bit more effort.
To help make your research that little bit easier the lads at racetours.co.uk have done most of the leg work for you with their excellent spectator guide. The guide was written in the context of watching the Nürburgring 24 hour race, but regular Touristenfahrten days can also make for great entertainment, so the guide is always relevant.
A few edited snippets from the guide, along with some great pics, with thanks to Neil from Race Tours are shown below. To see where each corner is located, check out the Nordschleife on Google Maps. If you're curious to find out the English translations for the corner names, spend some time on Ben Lovejoy's website.
Hatzenbach
"A fast right kink precedes the Hatzenbach complex, a series of sweeping bends that offer little in the way of overtaking. Traffic and 'racing incidents' are common here! Exiting the final Hatzenbach turn, the track follows a short incline up to the right-left of Hocheichen. The gradient falls away sharply through Hocheichen, underlining it as one of the more visually impressive corners on the circuit."
Adenauer Forst
"Between Aremberg and Adenauer Forst lies one of the most picturesque and remote parts of the circuit, the descent into Fuchsröhre. A series of gradual, alternating curves lead into a big compression where the circuit hugs the natural terrain. The ensuing climb up to Adenauer Forst is punctuated by a left and then a right turn as the circuit finds a way through the surrounding forest. Then comes the Adenauer Forst chicane. A deceptively tight left right that catches many a driver out, sending them barrelling over the steep curbs and the small grass infield."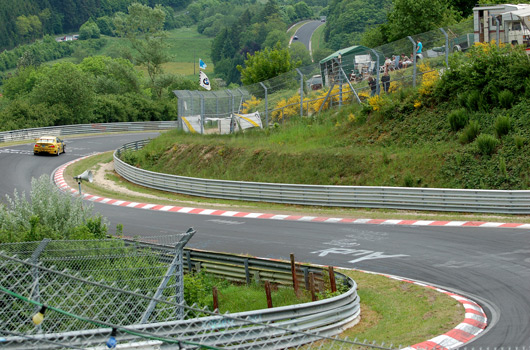 Wehrseifen
"After Metzgesfeld the track drops steeply through Kallenhard and Miss-Hit-Miss. Further down the hill is the popular Wehrseifen hairpin. The left hander is a technically demanding corner because the braking begins on the right handed approach and there is no room for error on the exit as the track once again bends to the right. As a result a number of different lines are adopted through the hairpin."
Kind thanks go to Neil from Race Tours who gave his permission to use the selected text and images from the guide. Make sure you check out their site, who knows, they may play a key role in your next motorsport experience.