Sometimes I get emails from readers of AUSringers that make me want to scream. I mean this in the nicest possible way, of course. I don't want to scream because they have frustrated me, or because they have done anything wrong. I want to scream simply for the experiences they have lived. Today was one of those days.
Wayne Moore (in the blue cap) seems like a great bloke, it has to be said. However, for the fact he has driven in every Nürburgring 24 hour race since 1994, he deserves my ire! To make matters worse, his more recent exploits have been at the wheel of a three door Volkswagen Golf GTI. I have a three door Golf GTI, and would give almost anything to drive it around the Nordschleife.
"It doesn't seem to matter how many times I visit the Eifel Mountains the magic and aura just compounds. Just the sheer enormity of Nurburgring never fails to impress. This is 'Wow!' with a big W."
Wayne has been kind enough to share his story with the AUSringers audience, it's a great read, I hope you enjoy it…
Wayne Moore: My story
I have an extraordinary passion for the petrol-head paradise that is the Nordschleife and have had the privilege to now drive over 700 laps (17,000km) with an annual visit for the 24 Hour Race each year since 1994.
My claim to being an AUSringer is that I've lived in Australia for the past 14 years and driven both Bathurst 24 Hour events although I'm currently based in Tauranga, New Zealand.
My Nürburgring experience commenced after meeting and rally co-driving with a young German I met down-under. When Florian Schmidt returned home he commenced rallying in Europe including the tarmac Isle of Man Rally. Being a bit wary of his tarmac skills he 'found' the Nürburgring 24 Hour Race (then in its 22nd year) and entered a Suzuki Swift for tarmac practice. Then came the letter that has probably changed my life; "Would I like to drive?"
"Would I what!"
I'd never been to Europe and never thought of going and now it's an annual pilgrimage to satisfy an addiction to the Nordschleife. And I don't think 'addiction' is too strong a word. This place is infectious!
It doesn't seem to matter how many times I visit the Eifel Mountains the magic and aura just compounds. I've had the privilege over the last few years to train first-time Aussie and Kiwi drivers and their awe after lap one or even first glimpses of the circuit through the trees is palpable. Just the sheer enormity of Nurburgring never fails to impress. This is "Wow!" with a big W.
PlayStation and Gran Turismo can help you learn the sequence of turns but are no substitute for feeling the undulations and camber of this extraordinary piece of tarmac. I guess a parallel is having no real concept of how steep Mountain Straight is, or how spectacular the drop from Skyline until you walk or drive Bathurst.
Florian located two German brothers Eberhard and Norbert Rattunde to join our driving team. They were from Volkswagen in Wolfsburg and brought a crew with them who ensured that the little car (albeit a Suzuki!) kept going until the finish.  One year down…  and the addiction had begun.
Since then Eberhard has led the development of Oettinger Sport RSR (not to be confused with RSR from Nurburg who feature on these pages) who are now a Volkswagen works-supported race team and I've joined them every year.
The team are like many in Germany and are Nurburgring 'specialists'. RSR irregularly contest the VLN series of 4 Hour Races held on the Nordschleife. We've ventured to Dubai twice for 24 Hour Races and also hold the 4, 6, 8, 12 and 24 Hour endurance records in New Zealand for diesels, with an RSR car that now lives here.
Of course, we always race Volkswagen products and that's included a petrol 1.4l Polo, a 1.8l Golf II and a 2.0l Golf III touring car and more recently a series of 1.9l diesels—Bora, Golf IV and Golf V with the growing global focus on alternate fuel technologies. BMW are our major alternate fuel competitors and often front with some pretty rapid prototype machinery which is becoming more reliable! It is worth noting, BMW won the race outright with a diesel 320d in 1998.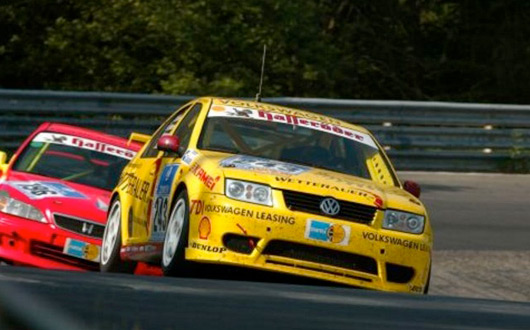 Since 2008 we've been back to the drawing board and this year's Oettinger car will include new Golf VI engine and mapping technology and a new aero pack which should help close the gap. Horsepower is generally unspoken, torque is unbelievable, and the cars will chirp their tyres changing from fifth to sixth and are usually geared to run 245km/h on Dottinger Höhe and at Schwedenkreuz and not much less down Fuchsröhre.
For the first 12 years we could almost do no wrong. There were so many magnificent German trophies on the shelf when we moved houses once that the shelf fell off the wall. And then a couple of years ago we experienced the other side of the motor racing coin when I didn't get to drive a single race car lap despite flying 24 hours each way to do so.
We had technical problems during both qualifying sessions which chewed up the entire 6 hours, so we needed a dispensation to race without practice. No issue there, until the car was destroyed in a collision with a passing Maserati during the fourth hour of the race. It felt quite strange, and sad, drinking beer throughout the Sunday of a 24 Hour Race I should have been driving.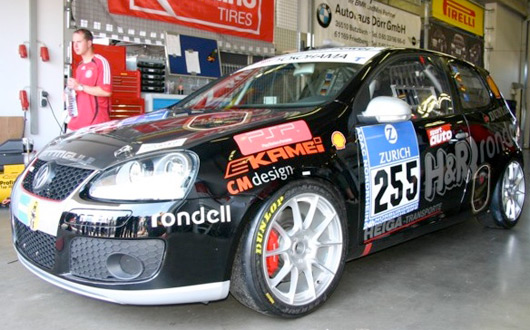 Last year a record crowd of 220,000 fans camped in the forest and filled the pensions throughout the Eifel to overflowing for the four day motorsport festival, which starts on Thursday and culminates with the running of the 24 Hour Race. 250 teams from around 30 countries enter the event and support classes include another 400-500 cars. Teams comprise multi-million euro factory operations right through to groups of mates running a club car. A growing number of Aussie and Kiwi drivers are competing which makes a welcome change from when English was hardly a spoken-language in pitlane.
This is an amazing spectacle and an awesome event to align with a Euro holiday. http://adac.24h-rennen.de/ Endurance race pits are open to spectators (with the right ticket) and there's a great camaraderie. Dates for 2009 are 21-24 May, and I expect the Nordschleife to be open for tourist laps until Mon 18 May (although it gets pretty crazy over that weekend) and then again from Tue 26 May.
I'm looking particularly forward to my Nürburgring visit in 2009, as a massive €215m development project should be complete. It comprises new grandstands, Welcome Centre, Indoor Attraction Centre (read Museum, Theme Halls, Go-karts), cafes, restaurants, a second hotel, an Eifel Village and fan shops. It is scheduled to open for the event. The old (well, only 7 years or so) Erlebniswelt theme hall and museum was good for a full day, so allow at least that to explore this new complex, then come and say "Hi!".
Speed Safely!
Wayne Moore
(Pictures courtesy of Wayne Moore and Oettinger Sport RSR)