Subaru will be taking an STi factory team to the Nürburgring 24 hour race this year (21-24 May). They will be running a single Impreza WRX STi, to be driven by Kazuo Shimizu, Toshihiro Yoshida, Naoki Hattori and Koji Matsuda.
The car will run a few STi suspension and tuning tweaks, but will essentially be a standard car. While Subaru is gunning for a class win (SP3T), they hope to use this experience to help develop future STi models.
If you click on the image above you can read their dedicated microsite which has information and interviews with some of the drivers and will feature live updates during the race. For images of the car, follow the links below.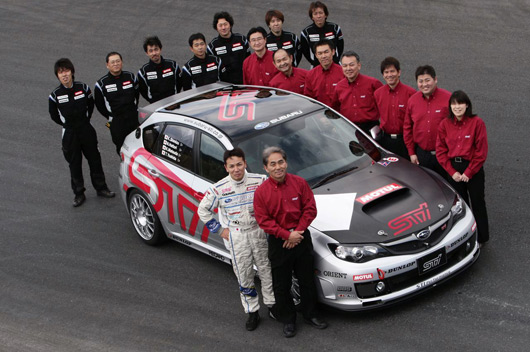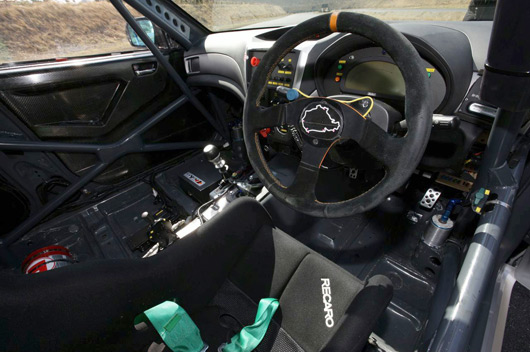 PRESS RELEASE
STI, Impreza to contest Nurburgring 24-hour race
This May, SUBARU Tecnica International (STI) heads to the Nurburgring circuit for the "37th ADAC Zurich 24 Hour Race" (24 Hours of the Nurburgring) with an originally tuned version of the Impreza WRX STI aiming for a class victory.
The ADAC Zurich 24-hour race takes place at the course of 25.378km in total, and is the largest endurance event in the world, with more than 200 cars participating, familiarized by European manufacturers who enter every year. STI particularly and practically uses 20.832kms "Nordschleife" (also called "Old Course"), known as intensively severe course, as a proofing ground for STI developed vehicles. STI's objective to participate this event is to collect data and verify technical know-how, and also to learn out of this race for future STI vehicle development. STI's vehicle development is focused on further enhancing the unique ride quality which can be characterized by the theme, "Strength and nimbleness".
The participating car is Impreza WRX STI built and tuned exclusively by STI, adopting "Flexible Tower Bar", along with a variety of original chassis and body stiffener and components. Modifications also include weight-reduction and safety equipment installation.
The car will participate in the SP3T class (for turbo-equipped machines with an engine displacement of 2.0 litter). STI will conduct the team management for this race, supervised by Hideharu Tatsumi (STI's General Manager of Vehicle Experiment Division), while racing the car are four highly experienced professional Japanese drivers.
Entrant name : SUBARU TECNICA INTERNATIONAL(STI)
Participating car : SUBARU Impreza WRX STI(GRB type)
Horizontally opposed 4-cylinder EJ20
2.0 liter DOHC turbo / SYMMETRICAL AWD
Suspension : Front – strut, rear – double wishbone
Vehicle manufacturer : STI
Team director : Hideharu Tatsumi
(STI General Manager of Vehicle Experiment Division)
Drivers : Kazuo Shimizu, Toshihiro Yoshida, Naoki Hattori, Koji Matsuda
STI NBR CHALLENGE web
www.subaru-sti.co.jp/e/nbr24h2009/