AUSringers has a few mates taking part at the 24 hour race this weekend. They're all part of the Osborne Motorsports team. They'll be competing in car #13, a Toyota Corolla, with just two drivers sharing the load.
A last minute scheduling issue means that Colin Osborne and Stu Jones will be getting more laps than they first thought. The lads will have their work cut out logistically as much as physically and mentally. The maximum stint for a driver is 2.5 hours, but the minimum stop in the pits is 2 hours. In theory that should be a no brainer, but motor sport never follows simple theory. As Stu experienced in 2008 when a brake rotor failed causing him to crash out of the race.
As I write this piece the first free practice session has just begun. This afternoon (Australian time) I received an email from Stu. You can read his diary report from his first couple of days in Germany after the jump and find out why that sexy old skool BMW is in the picture above.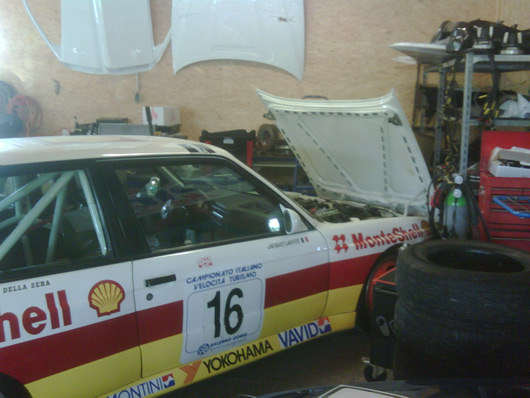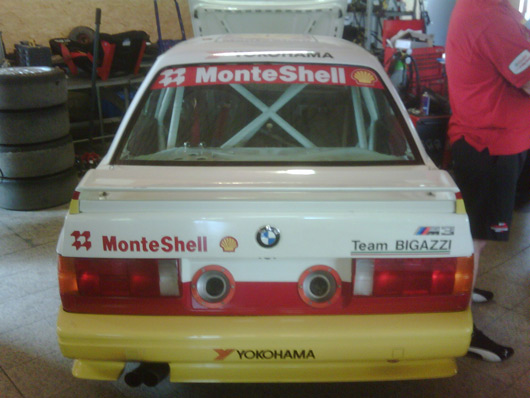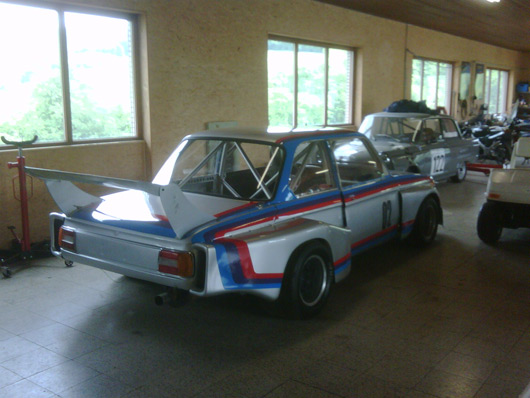 N24 trackside report – pt1
Stu Jones: All is good from our camp this year and the lead up has been remarkably relaxed. This year we flew in two separate groups with Colin and myself travelling with two of our team mechanics, David and Andre coming in on Tuesday morning and the remainder of the crew coming in Wednesday.
The good thing was that when we arrived at the track on Tuesday morning there was the container, big relief compared to last year. We had a pretty big day on Tuesday and got everything setup and car through scrutineering. This meant that as at 8pm Tuesday night were ready to race!
This allowed yesterday to be pretty relaxing. The rest of the crew arrived and had a late wander up to the track to do some last minute tasks. Neil Trama has fitted in one of those funky Motec dashes so the car looks pretty good.
In the afternoon Franz (our local man on the ground from the Toyota F1 team) took us up to see his mate who 'has a bit of a workshop'. On the road down to Adenau there is a turnoff to a little town call Herschbroich. Down some little non descript lane to a non descript building is a shed that included cars from some of the greats of BMW E30 DTMs being worked on and restored. One included the original Team Bigazzi car driven by Jacques Laffite. Andre who is a massive DTM and BMW fan was beside himself and was starting to get excited at the possibilities. But we were quickly bought down to earth—one of the cars that was originally raced by Kris Nissen in DTM and built by Zakspeed was for sale €95,000 (AU$170K) with the old engine or €130,000 (AU$230K) with a rebuilt engine! Hmm, different league! Some rough photos from my phone are attached of the Team Bigazzi car as well as an old BMW kind of sports sedan.
After this went for a wander up to the Karussell to see some of the campers and visit the Aussie corner. The whole camp ground areas are just amazing. We went through six or seven sections on the way in, all about the size of the whole of Bathurst camping area. Key observation, lots of drunk Germans, lots of shenanigans, but NO AGRO! There is a lot to be learnt there for Aussie race fans. Sadly, I think, due to a bunch of idiots, we have now sanitised Bathurst weekend camping and lost lots of its soul. These guys still seemed to be able to drink lots, ride round on motorbikes etc and not seem to be in too much trouble. We spent a few hours wandering the track and chatting with various groups in various grades of dodgy English and our dodgy German. Each, of course, insisting that we stop and help them drink their collection of beer! [Ed—I like how Stu claims he needed to be enouraged!]
Today kicks off first practice sessions so looking forward to getting out on the track. The car has some more power this year so interested to see how we go.
Thanks to Stu for the update. As you can imagine reliable updates will depend on schedule and available time. I'll endeavour to post more updates as they come to hand.