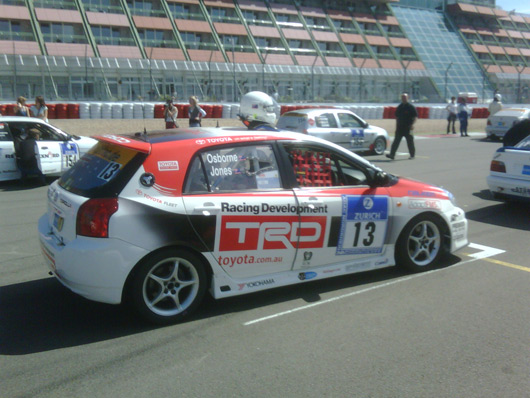 Pre-race nerves and waiting are the theme of Stu's latest update, filed earlier this morning (German time). It's a great read and gives a very good insight into the task ahead. He's also included some images from their pit garage taken during yesterday's qualifying session. Sadly, one of the cars sharing their pit space won't be making the race start just under an hour from now.
UPDATE: I just sent an SMS to Stu wishing him and the team good luck today. He responded with a few pics from pit lane, taken around 30 minutes ago. One more new pic from the starting grid has now been added above.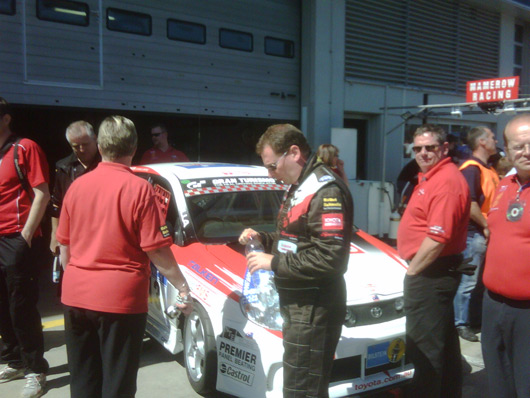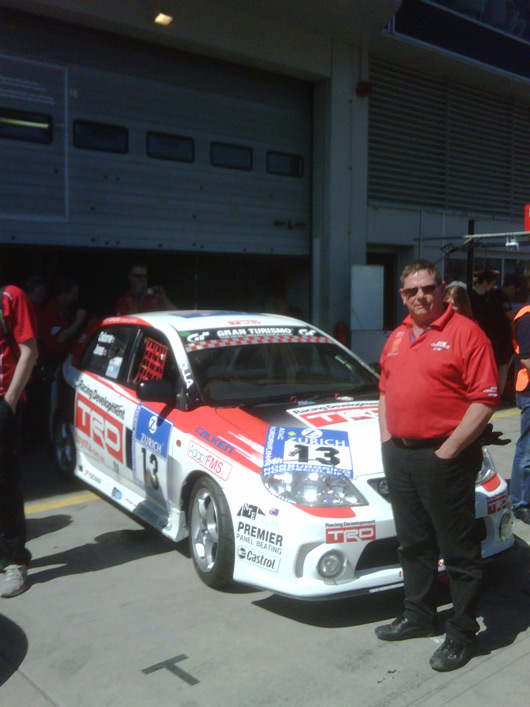 N24 trackside report – pt5
Stu Jones: So I am sitting in my hotel room trying to relax before heading up to the track. We are not planning to leave until noon for the 4pm start and am finding it really hard to rest. Apart from the usual noise from the streets of Adenau you can hear the roar of race cars throughout the valley from the support races. The roar of cars heading over Briedscheid bridge through Bergwerk and up the long valley run through Kesselchen. The sound is really spine tingling as I keep thinking how I am going to drive the same sections.
Doing a bit of a retrospective of the event and it really is quite sobering. When you first come here you look at your car and think it is pretty special, then you look at some of the other cars in your class and get a little nervous. Not just the cars themselves but the teams and the infrastructure they bring with them is really quite astounding. And then you get out on track for practice and qualifying and you find out how different they really are.
The fact that you only really get eight or nine laps in total over practice and qualifying is quite insane. It really shows how much of a head start the locals have who race this track regularly. There are at least six races here every year including a four hour race series (VLN) that lots of teams do in the lead up. So if you're running those events each year, who needs practice. A good reminder of this was yesterday during qualifying I was following a Civic Type R through the Grand Prix track and was holding pace and a little faster than he was, so you get sucked into a bit of a race. I can pass this guy you think. We head into the Nordschleife and we are holding tight together and am pushing a little to keep up, and, then you get a wake up call as he goes through sections way faster than you think is possible and its not due to different car setup, it's just lap time experience.
It's a good reminder that we are not here to race but to survive! Getting sucked into a dual with someone else will more than likely end up with both of you into the wall. So the game plan is to get out, lap safe, enjoy the event and come home with a little glass trophy for finishing. That's also a good reminder of how hard the event is, like Targa Tasmania, just finishing deserves a trophy.
Colin will start the race today and I will jump in around 6:30pm and drive up to around 9pm. My next stint will be from around 11pm and am dreading it a bit. Don't think I am all that comfortable yet with night racing, again its not one of those things you get to practice a lot. Colin gets the dreaded 2-4:30am stint which is when the brain can start playing games with you and I will get back in at around 4:30am for the dawn shift and get a view of the carnage from the night. From then its another 12hours to go…
Bring on the start!!!

Pics from yesterday