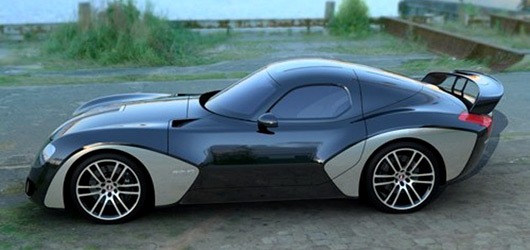 This is the Devon Motor Works GTX. I'd never heard of it either. Thing is, these guys reckon they've got what it takes to break the "production car" record around the Nürburgring Nordschleife. The current bar sits at 7 minutes 22.1 seconds, as set by the Dodge Viper ACR in August last year.
Okay, so who are these Devon Motor Works (DMW) folks anyway? They're an American company who, in an ironic twist, are the only ones to have tabled a bona fide bid to buy the Dodge Viper business from Chrysler. True to their Nürburgring ambitions, DMW went in lowballed that bid, too, believed to be just US$5.5M.
Should DMW get their way they will have access to the Viper production facility. This would be handy, as the GTX, pictured above, is simply an early concept car at this stage. Therefore having the keys to the Viper room would help the GTX's dream become a reality.
However, DMW plans to boldly go where no "production car" has gone sometime in July with an attempt at beating the ACR's lap time. All this before an official prototype is revealed at the Pebble Beach Concourse in August.
[Source: Top Gear & Motor Authority]