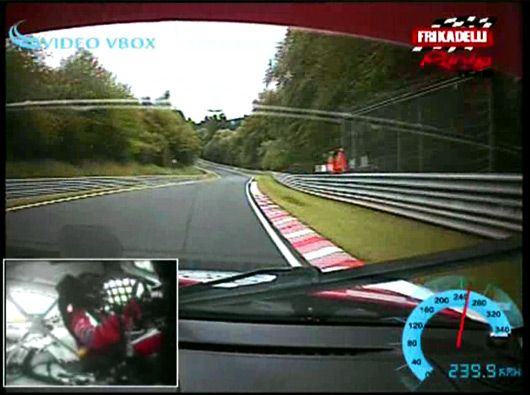 Sabine Schmitz is well known for her appearances on Top Gear. She's also well known for her gig as a driver of the BMW Ring Taxi. She's even been interviewed by AUSringers. But, ultimately, she's a racer, so what better way to kick off 2010 than with some video footage of Sabine at the wheel of her Frikadelli Racing Porsche 911 doing a full lap of the Nürburgring Nordschleife.
The clip is available over at the Ring1.tv website and you can follow the link by clicking on the screen grab above, or the link below. As you can see a digital speedometer has been superimposed over the footage, along with an inset window of Sabine at the wheel.
Keep an eye out around 9:30 into the clip for the yellow Mk3 Golf which provides a bit of a hairy moment just before the apex at Galgenkopf. Sabine lets the driver know all about it as well! There's another close moment at Schikane, just before re-entry to the Formula One circuit that raises the ire of Sabine.
It's a great clip and the sense of awesome and terrifying speed really does come through. The footage was filmed in July last year during qualifying for a 6 hour VLN race.
[Source: Ring1.tv | Thanks to Obi for the tip]