Lexus, in partnership with Gazoo Racing, will return to the Nürburgring 24 hour race this year (13–16 May) with production versions of the LF-A supercar.
The cars will be driven by a mix of Japanese and German drivers, including Toyota master test driver Hiromu Naruse, Takayuki Kinoshita, Akira Ida, Juichi Wakisaka, Armin Hahne, Jochen Krumbach and Andre Lotterer. The driving talent has a great mix of GT racing and proven experience at the N24.
Powered by a 552hp V10 the LF-A certainly isn't lacking for performance. Indeed, in road-going trim Lexus claim their supercar can reach 100km/h in 3.7 seconds, and is able to exceed 200mph (320km/h+).
Last year Gazoo Racing entered two pre-production models in the 24 hour enduro. They'll be hoping for better success in 2010 with encouraging, if not spectacular, results achieved in the 2009 race. Only one of the LF-As finished the event, placing fourth in class (from five finishers) and 14th overall, some 41 laps behind the winning Manthey Racing Porsche 911 RSR. The second LF-A managed to complete 106 laps and almost 22 and a half hours of competition before withdrawing from the event.
More after the break.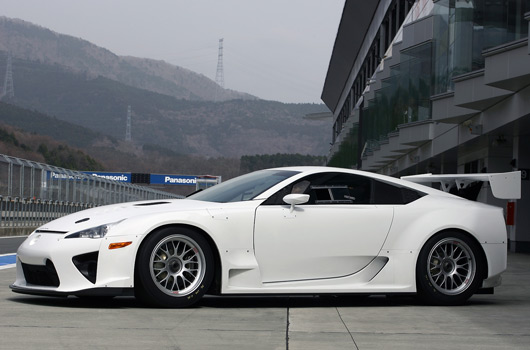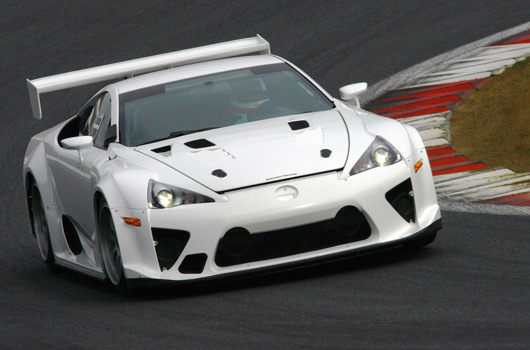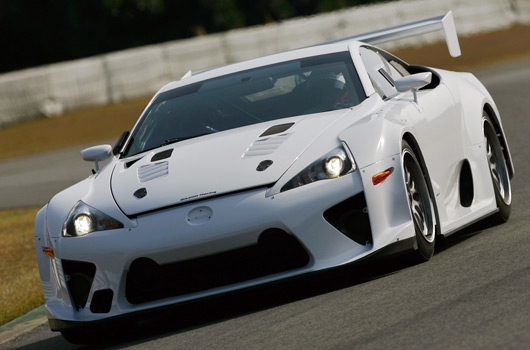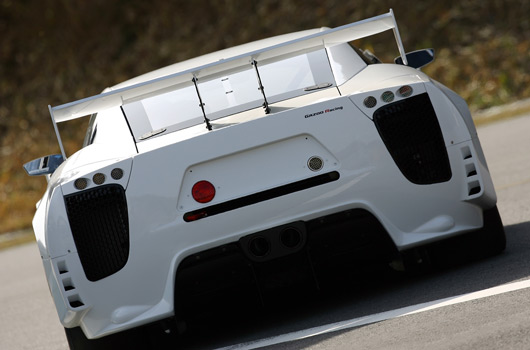 LEXUS LFA TO TAKE ON THE 'RING
Two production Lexus LFA supercars to compete in Nürburgring 24 Hours endurance race in May
Race-prepared machines entered by Gazoo racing
Lexus also to defend championship titles with SC 430 and IS 350 in Japanese Super GT series
Lexus is heading back to the legendary Nürburgring this spring to challenge for glory in the 24 Hours endurance race with its LFA supercar.
It will be the first time the production LFA is seen in full-blooded competition, taking on one of the world's most challenging circuits in a marathon test of speed, handling and durability. In two previous outings in the event, development versions of the LFA were raced primarily to help hone performance and handling. This time the LFA will line up as a prime challenger in standard production car guise.
It's a formidable proposition: with its advanced, lightweight composite construction and 552bhp mid-mounted V10 engine, it will reach 62mph in just 3.7 seconds and race on to a top speed beyond 200mph.
Gazoo Racing will prepare and field the two LFA in the event, which takes place from 13 to 16 May. Led by Toyota master test driver Hiromu Naruse, the team will include four Japanese and three German drivers who between them boast outstanding GT and endurance racing experience.
Takayuki Kinoshita is a six-time winner of the Super Taikyu Endurance Series and has competed more often and finished higher (fifth overall) at the Nürburgring 24 Hours than any other Japanese driver. Akira Ida was overall winner of the Tokachi 24 Hours in 1995 and 2007, and both Juichi Wakisaka and Kazuya Oshima have recorded consistent success in Japanese Super GT 500 and GT 300 competition.
The German team members are Armin Hahne, winner of the Spa 24 Hours in 1982 and 1983; Jochen Krumbach, who finished second overall in the 2008 Nürburgring 24 Hours; and Andre Lotterer, Super GT 500 champion in 2006 and 2008.
Lexus SC 430 and IS 350 return to Japanese Super GT series
Lexus will defend its clean sweep of driver and team championships in Japan's premiere racing series this year.
The SC 430, powered by a 3.4-litre V8 engine, will again contest the GT 500 class, fielded by five teams and piloted by an international line-up of drivers. These include Richard Lyons from Northern Ireland, who will pilot one of the Lexus Team Zent Cerumo cars. A single IS 350 will contest the GT 300 competition.