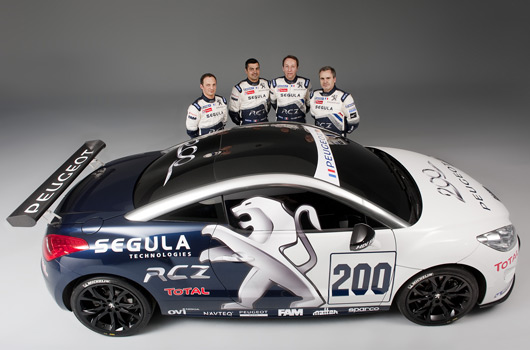 Peugeot will take part in its first Nürburgring 24 hour race next month. To help boost the launch of their RCZ coupé the French marque will enter two cars featuring 147kW 2.0 litre turbo diesel engines.
There will be one team of French drivers (car #200) and a team of German drivers (#201). The numbers represent Peugeot's 200th anniversary.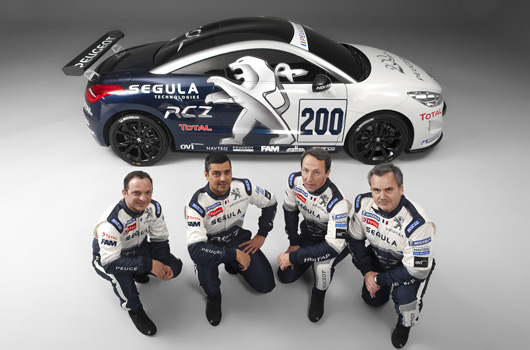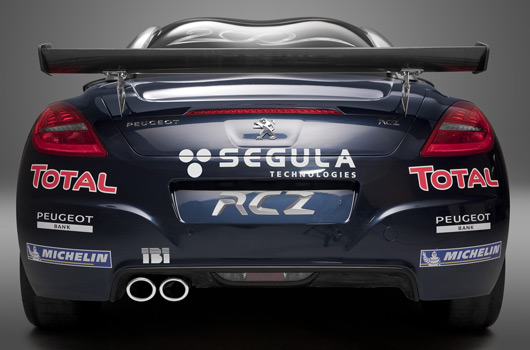 Nurburgring 24 hours: two Peugeot "200 years" RCZ cars competing
On 15th and 16th May 2010, two Peugeot RCZs will be competing in the Nürburgring 24 Hours race, the same weekend that the Marque celebrates its bicentenary.
To mark the launch of its limited edition coupé, the Peugeot RCZ, and the Marque's 200th anniversary, which will be celebrated on 15th and 16th May, Peugeot is competing for the first time in the Nürburgring 24 Hours race. This race is very popular in Germany and draws 220,000 spectators every year. Peugeot's involvement will help to enhance the reputation of its new coupé, on a market that is very fond of sporty cars.
Peugeot will race two 2.0 l HDi FAP RCZ cars, each developing 147 Kw (≈ 200 h.p. DIN), in the D1T category, Diesel between 1700 and 2000 cc. The parts in these two RCZs are mainly standard vehicle parts, with the exception of a few specific parts which come from the Peugeot Sport "client motor racing" range.
The two RCZs will display the numbers 200 and 201, to symbolise 200 years of excellence and emotion, and will be driven respectively by a Peugeot French team and a Peugeot German team.
Each team is composed of four "gentleman drivers", enlightened motor racing enthusiasts, experienced drivers and fans of the Marque, including Jean-Philippe Peugeot, Vice-president of the PSA Group's Supervisory Board, Stéphane Caillet, ground link technician, Cyrus Ayari, sales executive, and Olivier Perez, Peugeot marketing executive.
This competition will highlight the sporty nature of the RCZ, on sale in Europe from April onwards.
A static model of the car that will be on the starting grid of the Nürburgring 24 Hours is currently being presented to the press during the international RCZ road tests and will be on display from 12th April at Peugeot Avenue on the Champs-Elysées in Paris. It will also be exhibited at the 21st Convertible, Coupé and SUV Show at the Porte de Versailles from 9th to 11th April 2010.
French team – RCZ N°200

Jean-Philippe PEUGEOT
Stéphane CAILLET
Cyrus AYARI
Olivier PEREZ
German team – RCZ N°201

Jürgen NETT
Joey KELLY
Michael BOHRER
Henning KLIPP