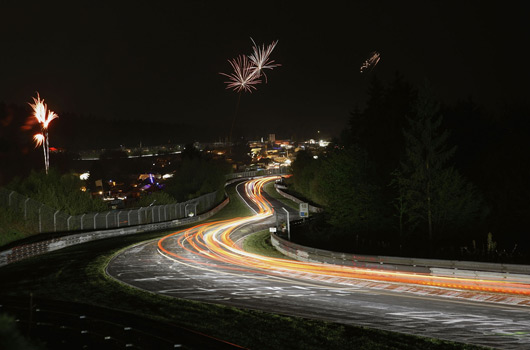 Kiwi Wayne Moore is a long time supporter of AUSringers and, more importantly, a long time racer at the Ring. This year marked Wayne's 17th consecutive appearance. Making the pilgrimage to the Eifel mountains each year from New Zealand takes desire, dedication and a love of repetition. Read on to find out why.
The Toaster
By Wayne Moore
Have you ever been to the same place many times, maybe year after year, and got into a bit of a pattern? It happens with beach houses and time shares. Sure, things change when the kids transition from playing on the swings to playing behind the hedge; but much of what we do is often repetitive. We barbeque fish with the same neighbours. Drink the same beer. Get up at the same time each day. Wash clothes on days ending in 'y'.
I've had the privilege to drive in the 24 hour race at the legendary Nürburgring every year since 1994 and for sixteen of those years I've joined the same team. That's a bit of a pattern. Sure the race has changed. The field has grown from 120 cars to wait lists above 250. The crowds have grown from 70,000 last century to 235,000 on race day 2009. Nürburgring has grown with the injection of hundreds of millions of euro to create new play grounds for fans. But the pattern remains the same.
On Monday of race week the transporter arrives with one or two early bird team members including team chief and driver Eberhard Rattunde. We visit the Welcome Centre in exchange for a huge bag of decals and entry passes. The truck joins hundreds of others in parc ferme for the night.
Tuesday is a waiting day. The massive truck convoy parks on the Grand Prix course and it can be 12 hours before yours is escorted into the paddock by an official struggling with a Vespa. We broke the pattern this year and unloaded the race car at turn 5 so we could at least drive it into the pits and prepare for scrutineering. Maurice and Anne O'Reilly arrived. Maurice has also driven here many times. Car scrutineering was thorough but painless and similarly our driver checks. We ate at the same restaurant that we did last year.
We gave the organisers a bag of cash on Wednesday as our fuel deposit and a smaller bag for pit lane team vests. Our marquee was pitched in the rain and the truck moved three times. Maurice and Anne went shopping. Our fourth driver, Heiner Immig, arrived from Paderborn up the autobahn a few hours. We ate at the same restaurant we did last night.
Thursday starts with drivers briefings. Hundreds of drivers with a German briefing followed by an English briefing. The Spanish, Koreans and Japanese choose either. We had a team meeting with Maurice, I left to choose who drives first. Frei training starts and our Golf V R-TDI, with more power this year and more predictable handling, is a delight to drive. This, despite rain and freezing temperatures. The tyres are 35°C after 4 laps. It's a wonder we didn't spin more often than we did. Once for me was on someone else's oil in perfect synchronisation with the three cars behind. Training leads to qualifying and the rain eases at night but the ground temperature is even colder. We all have a look in the dark as cars are crashing already, much to the delight or horror of the fans. We then park up and start race preparations.
Friday features final qualifying for us but we don't put much emphasis on it so languish 9th (from 12) in class D1T and 182nd overall. The team photographer snaps pics of one very clean and pristine car. We eat dinner in the tent. I join some German fans for a drink and receive a four-leaf clover. Every year.
Saturday is race day and pre-race I try to do nothing that uses energy. We climb aboard a driver's parade truck for a very slow lap of the 25.3km race track and a wonderful rapport with the fans. And then I broke my Nürburgring predictability. I visited a fan shop and bought a toaster. A toaster that 'burns' the race track outline onto your toast. How cool. Or hot. It's the ultimate gift for someone who's been coming here so long and has already bought the T-shirts, beer mugs, phone cards and jackets. And besides I like toast on Saturdays.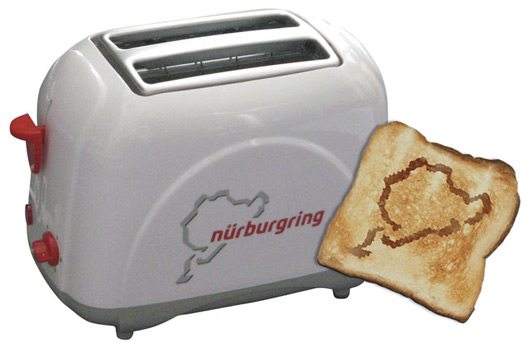 Two hours of grid girls, pomp, pageantry and photos precede the race start. Then the three grids move off and fans come through the fence to share the excitement of the parade lap. The rolling start is often bedlam and it's best just to hang fire. And we did. Predictably. And six hours into this amazing race we were first in class and 81st outright. Unbelievable. As it turned out, it was; a centering dowel in the clutch broke and we pitted for repairs.
Into Sunday we were running 6th, with 4th & 5th (including a works Peugeot RCZ), three laps ahead. The night had been dry. No fog. Just the smell of cooking fires and flares as some fans chose to do more than drink. My third drive now. My 888th lap of the Nordschleife and the gearbox chose to do more than change gears and emitted an horrendous racket. In fact, it chose not to change gears as we coasted to pit lane. The pattern hadn't just been broken. It had been wrecked. Our first mechanical DNF in 17 years. But you don't dwell long. The car had been super quick and there's always next year. Meanwhile, where's the marmalade?
[Ed: Thanks to Wayne for sending this article in. It's a great read and I must apologise for taking far too long to share it with you all.]