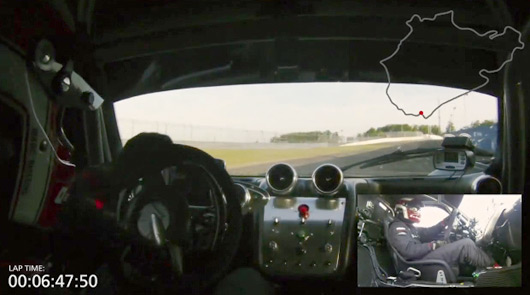 Pagani have just published a YouTube clip showing the Zonda R "record" lap of the Nürburgring. It's a great lap to watch, too. The car is just so stable, there is no discernable body roll and the way the Zonda R gathers speed is mind blowing. But for a couple of missed gears, most notably on the climb out of Ex-Mühle, a 6:46 time may have been possible. Pagani's text from the YouTube description field reads:
Assuring new technologies and materials are fit for production means also putting the vehicle's components under severe stresses, exceeding those normally encountered in every day road driving.

The Nürburgring Nordschleife is the most demanding track in the world, for man and machine, an ordeal that each Pagani has to pass, only one of many in the entire development phase.

The Zonda R serves as the ultimate test bench, a car able to reach acceleration figures and speeds that are not possible with a road car.

This is further undermined by a laptime of 6:47,5 min for the 20,832 km Nordschleife.
So, the Zonda R has bettered the previous best time set by the Radical SR8LM; by less than a second. We're now edging closer to the holy grail of Ring lap times—Stefan Bellof's 1983 benchmark of 6 minutes 11 seconds. There's still some way to go, I just wonder when it will be beaten. And by what!
Check out the full Zonda R lap below.