This crazy looking electric powered Peugeot EX1, complete with 250kW, has set a new lap record on the Nürburgring Nordschleife for an electric powered car. It didn't hang about, either, posting time of 9:01.338—oh so close to breaking the 9 minute barrier.
Stéphane Caillet, from Peugeot's Research & Development Centre, was the man behind the wheel and we reckon he deserves a big pat on the back. He knocked some 50 seconds off the lap record, previously held by the MINI E.
The official word from Peugeot, plus a brief video clip, can be seen after the break.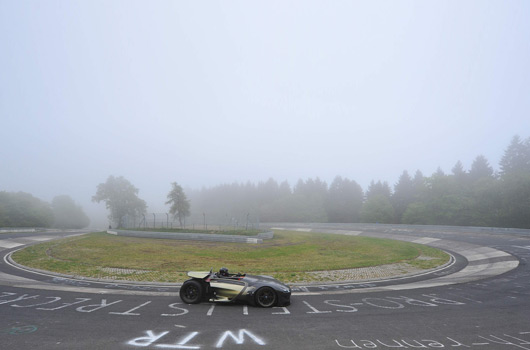 Peugeot EX1 laps Nordschleife in electric record time
EX1 establishes new record on Germany's Nürburgring-Nordschleife circuit
For the first time in its history, Peugeot last weekend attempted to set a record on the Nordschleife track. Stéphane Caillet, driver and tuner-technician from the Company's Research & Development Centre, was at the wheel of the EX1 Concept Car, which covered the circuit's 20.832 kilometres (12.944 miles), convincingly beating the electric speed record for a lap.
With its 73 bends and 300 metres of altitude difference, the Nordschleife has a reputation for being the toughest circuit in the world.
It was on this legendary circuit, the longest in the world, and the main venue for the German Grand Prix until the mid-1970s, that EX1 beat an electric speed record by putting in a lap time of 9 minutes, 1.338 seconds (9:01.338) at an average speed of 138.324 km/h (85.951 mph), despite weather conditions which were far from favourable.
The previous electric speed record on this circuit was the time of 9:51.45 seconds clocked in 2010.
The record achieved by EX1 was formally recognised by WIGE Performance, the official time-keeping body for the Nordschleife.