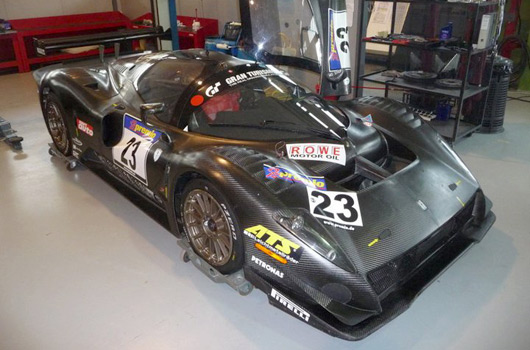 James Glickenhaus, wealthy American businessman, is not content with his own custom built Ferrari creation, the P4/5 by Pininfarina, so he's making a racing version. Not just that, his new privately funded creation is designed to tackle the Nürburgring 24 hour race in June. The P4/5 Competizione, based on a Ferrari F430 Scuderia, has been under development for a while now and with the N24 not that far away the team's preparations are almost complete.
Here's a few pics of the car in its raw carbon fibre state and racing decals sourced from the team's Facebook page. Also included below is some video of the car in action in at a recent VLN race at the Ring. The driver lineup is not too bad, either, and includes former F1 drivers Nicola Larini and Mika Salo.
We've never been too sure about the look of the P4/5, but we give Glickenhaus his dues for living the dream.
[Source: Facebook & YouTube | Thanks to Obi for the tip]