Volkswagen is bringing a five-car fleet to the Nürburgring 24 hour race. Of course, the limelight will be hogged by a trio of fearsome looking Golf24 machines, which have been created to celebrate the 35th anniversary of the Golf GTI. With 450hp on offer from its 2.5 litre five cylinder and all-wheel drive grip these cars could find themselves in the top 10 outright by race end.
Returning again is a pair of comparatively staid looking natural gas fuelled Scirocco GT24-CNG racers.
Preview text and driver quotes are available after the break. Although, we wonder if former F1 ace Johnny Herbert is really knows what he's in for?
"I've got a few years in racing under my belt but at my first race on the Nordschleife a few weeks ago I have to say I was surprised. I've been getting my bearings a bit on the game console but the world does look totally different at the wheel of a racing car – particularly the many dips and all the other cars around me that are running their own race," said Herbert.
We'll be back later today to update you with a full gallery of Golf24 images.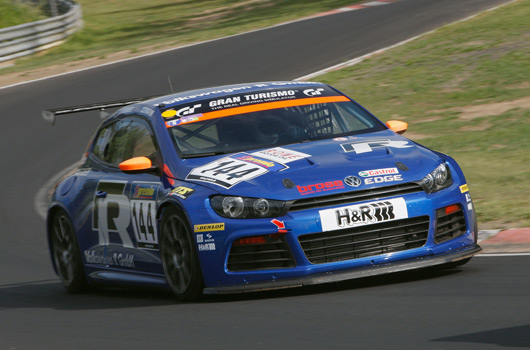 Volkswagen Golf24 ready for the Nürburgring "green hell"
Wolfsburg (21 June 2011). The most spectacular Golf for the most extreme race: Volkswagen will contest the 24-hour race at the Nürburgring next weekend (23–26 June) with three 450-hp Golf24 cars.
Flat out around the clock, more than 200 competitors, rapidly changing weather conditions, strategy chess and all this on the world's most difficult race track – the Golf24 has been built for exactly this enormous challenge. Fitting the 35th anniversary of the Golf GTI, Volkswagen Motorsport has developed a thorough-bred racing version of the world's highest-volume production car.
"The 35th birthday of the GTI was an occasion for us to put a special Golf on its wheels for its fans – and the 24-hour race that attracts more than 250,000 visitors is the best place for a birthday party," says Volkswagen Motorsport Director Kris Nissen. "But first of all we've got to master a tough task, and that is to run 24 hours at rough racing speed. The development time for a brand new racing car like the Golf24 was extremely short and we had to settle for a relatively brief testing programme. Nevertheless, our team managed to get three perfectly prepared Golf cars off the ground in time – a brilliant achievement from design through to preparation. Another challenge is the extremely high competitiveness of the field which is stronger than ever before. The entire Volkswagen team is highly motivated and will give everything to achieve our aim: Firstly, we want to cover the whole distance without any major problem – and then we've got good chances of a result in the top ten."
Powered by a 450-hp 2.5-litre five cylinder turbo engine, the Golf24 is equipped with four-wheel drive, a sequential 6-speed gearbox with paddle shifters and, last but not least, a spectacular body shell. High-calibre racers will be taking turns at the wheel of three factory-fielded cars – they range from seasoned Nordschleife drivers like Peter Terting and Patrick Simon, Formula 1 legends like Johnny Herbert and Mark Blundell through to the Volkswagen junior René Rast and the DTM rookie Edoardo Mortara.
With green power: three "Dakar" winners on the grid together for the first time
Nasser Al-Attiyah, Carlos Sainz, Giniel de Villiers – these are the names that have dominated the Dakar Rally in the past three years and made three consecutive Volkswagen victories possible. They will use the 24-hour race on the Nordschleife for a joint circuit visit. The three Dakar Champions from 2009, 2010 and 2011 will compete together for the first time and share a 330-hp Scirocco GT24-CNG. Their team-mates will also be direct rivals for victory in the class for vehicles with alternative power-trains. Le Mans racer Vanina Ickx and the journalists Peter Wyss and Bernd Ostmann will be driving the "sister" car. Both Scirocco vehicles are powered by bio natural gas and compared with conventional spark ignition engines allow CO2 emissions to be reduced by 80 per cent. The fourth driver of both cars will be the former DTM racer Klaus Niedzwiedz, who has already won the 24-hour race twice.
Quotes before the race
#35 – Golf24 – basic colour white/accentuating colour red
Peter Terting (D)/Nicki Thiim (DK)/Franck Mailleux (F)/René Rast (D)
Rast: "The 24-hour race is one of the true classics – every racer wants to contest and, preferably, win it. I'm very happy to be on the grid again after a four-year break. In 2007, also in a Golf, we finished eighth in difficult conditions. Maybe that's a good omen."
#135 – Golf24 – white/blue
Thomas Mutsch (D)/Fredrik Ekblom (S)/Patrick Simon (D)/Edoardo Mortara (I)
Simon: "Contesting the 24-hour race also means being able to cope with mental stress – it takes a lot of energy, an iron will as well as patience, particularly with respect to lapping. We're not among the absolute favourites and are not under the type of pressure that cars at the front of the field put on each other. We want to bring our Golf24 across the finish line at all cost and if that's the case, then a good result is certainly possible."
#235 – Golf24 – white/yellow
Johnny Herbert (GB)/Patrick Bernhardt(D)/Mark Blundell (GB)/René Rast (D)
Herbert: "I've got a few years in racing under my belt but at my first race on the Nordschleife a few weeks ago I have to say I was surprised. I've been getting my bearings a bit on the game console but the world does look totally different at the wheel of a racing car – particularly the many dips and all the other cars around me that are running their own race."
#116 – Scirocco GT24-CNG – blue/silver
Dr Ulrich Hackenberg (D)/Vanina Ickx (B)/Peter Wyss (CH)/Bernd Ostmann (D)
Ickx: "Only ten days ago I contested the Le Mans 24 Hours but these two races are hardly comparable. The only thing they have in common is that both are very difficult and even more difficult to win. On the Nordschleife each lap can become an adventure – and a brilliantly beautiful day can turn into a wet nightmare at night."
#117 – Scirocco GT24-CNG – blue/orange
Nasser Al-Attiyah (Q)/Carlos Sainz (E)/Giniel de Villiers (ZA)/Klaus Niedzwiedz (D)
Sainz: "During my career I've taken on many different types of challenges – such as the Monte Carlo, the Dakar or, well, the 24-hour race. Its special character makes it a truly unique race. On the one hand there's the Nordschleife as the world's most demanding track, 24 hours of straight driving, with over 200 other cars. And on the other there's the exceptional, family-like atmosphere with the many friendly fans lining the track."