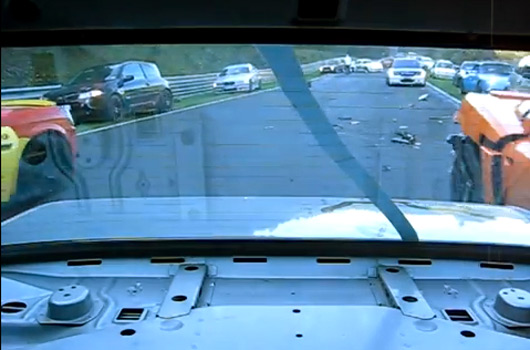 Earlier footage showing the roadworks on the Nordschleife moments before the recent eight-car crash at the Ring has been removed. However, a reader has posted a link to a new video which shows the accident happened in different stages.
Filmed using a rearward facing camera inside a BMW E30 3 Series the clip starts outside the car park near the TF gates. As the car moves out on to the Nordschleife you can see a couple of the cars that will later be involved in the incident.
The car comes across the first signs of the crash scene about 10 minutes into the clip. You'll see the car slowly move through the debris. Then, roughly 30 seconds later, you'll see two cars hit the armco to the right of screen. We're guessing one of those cars is the BMW Ring-Taxi.
It's nasty stuff really. We'd generally not be so keen on showing footage of an accident of this nature, however we think it is worth using to highlight just how cautious one needs to be when lapping the track, especially on a public day.
There's usually a lot of traffic and without the right attitude you can be bitten hard. Never mind when there's insufficient warning of roadworks at one of the fastest sections of the circuit.
You can check out the video after the break. The accident aside, it's quite interesting seeing the track from the rearward perspective too.