Uwe Alzen set the fastest time in the Top 40 shoot out in the #19 BMW Z4 GT3 and will start tomorrow's Nürburgring 24 hour race from pole position. His time was 8:18.832, that's an average speed of almost 187km/h over the 25.9km combined Grand Prix track–Nordschleife course.
After qualifying Alzen said: "I don't know what I would have preferred to have been today: a racing driver or a spectator. The new Top 40 Qualifying was unbelievable fun. The car was super, the tyres were super—and I put absolutely everything into it. I think our rivals did too."
A full post-qualifying press release from BMW Motorsport, with comments regarding all four Z4 GT3s, can be read after the break.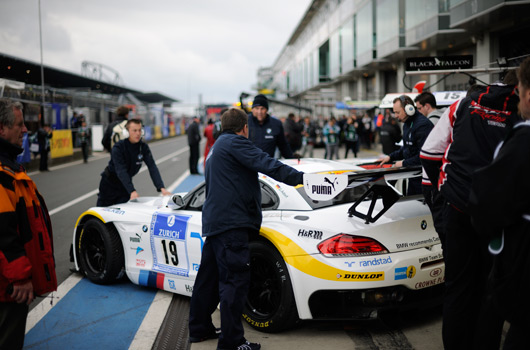 BMW starts from pole position at the Nürburgring 24 Hours – Uwe Alzen sets fastest time in the BMW Z4 GT3.
Nürburgring, 18th May 2012. Uwe Alzen (DE), at the wheel of the number 19 BMW Z4 GT3, clocked the fastest time in Friday evening's Top 40 Qualifying at the 40th 24-hour race at the Nürburgring (DE). The BMW works driver lapped the 25.378-kilometre circuit in 8:18.382 minutes. BMW Team Schubert will now start Saturday's race from pole position. Alzen will share the driving duties with two other BMW works drivers, Jörg Müller (DE) and Dirk Müller (DE), while Dirk Adorf (DE) is also registered for this car. All five BMW Z4 GT3s were among the top 15 cars overall, providing further proof of what this car is capable of.
Adorf qualified in fifth place in the number 20 car – also run by BMW Team Schubert. He will alternate at the wheel of this BMW Z4 GT3 with Claudia Hürtgen (DE), Dominik Schwager (DE) and Nico Bastian (DE), as they take on the Nordschleife marathon.
BMW Team Vita4One will start from ninth and 15th on the grid with its two cars (numbers 17 and 18). Pedro Lamy (PT) set the ninth fastest time. He will share the number 17 BMW Z4 GT3 with Mathias Lauda (AT), Ricardo van der Ende (NL) and Frank Kechele (DE). BMW Motorsport test and development driver Marco Wittmann (DE), Jens Klingmann (DE) and Richard Göransson (SE) will drive the number 18 car, for which Lamy is also registered.
Marc VDS Racing from Belgium qualified 14th to complete an impressive overall result for BMW in the "Green Hell". The team will line up at its maiden 24-hour race at the Nürburgring with drivers Bas Leinders (BE), Markus Palttala (FI) and Maxime Martin (BE) in the number 29 BMW Z4 GT3.
Jens Marquardt (BMW Motorsport Director):
"Congratulations to our teams at the Nürburgring – particularly Uwe Alzen and BMW Team Schubert. We followed the Top 40 Qualifying with great excitement from Brands Hatch. The grid positions at a 24-hour race are obviously not as crucial as in a sprint. Despite this, it is good to see that the BMW Z4 GT3 is competitive on the Nordschleife this weekend. We are certainly in a promising position going into the race."
Stefan Wendl (Team Manager BMW Team Schubert):
"A dream start for BMW, a dream start for BMW Team Schubert, and a dream start for our partners. I am delighted with this result. I am particularly pleased for the team, and for our mechanics. We really wanted that pole position and focussed hard on getting it. It is obviously not hugely important in a race of this length, but it does give us a slight advantage when it comes to the pit stop strategy. Whoever comes into the pits before the other teams is guaranteed a free fuel rig. Uwe put in a fantastic lap. Compliments also to Dirk Adorf. Although his second lap was not ideal, he is still well placed at the front of the field in fifth. On the whole, we will start the race in an excellent position."
Michael Bartels (Team Manager BMW Team Vita4One):
"You could see that the BMW Z4 GT3 package is very competitive here. Ninth and 15th may not be the best grid positions, but it is now important to focus on the race and use every last opportunity to fine tune the car, tease out every last ounce of performance and at the same time make it reliable. All we are thinking about now is how we can get our two BMW Z4 GT3s through the race with as few mistakes as possible."
Bas Leinders (Team Manager Marc VDS Racing Team):
"We are very happy with 14th place on the grid. It is our first marathon at the Nürburgring, but we have a lot of experience with 24-hour races. We know the race is not won in qualifying. However, the good news is we are getting closer and closer to achieving the pace of the leading cars. It is now a matter of being consistent. The BMW Z4 GT3 is very fast and reliable. We are lining up with just one car. If it has to retire, we do not have a second iron in the fire. On the positive side, however, we can focus all our attention on one car."
Uwe Alzen (BMW Team Schubert, car number 19):
"I don't know what I would have preferred to have been today: a racing driver or a spectator. The new Top 40 Qualifying was unbelievable fun. The car was super, the tyres were super – and I put absolutely everything into it. I think our rivals did too."
Dirk Adorf (BMW Team Schubert, car number 20):
"My first lap was good and gave me a lot of confidence. Unfortunately I then went a bit wide at one point and almost ran out of track – otherwise my second lap would have been even better. All in all, we are perfectly placed with both the team's cars. Bring on the 24-hour race."
Pedro Lamy (BMW Team Vita4One, car number 17):
"I didn't know what was in store for us today. It is fantastic for BMW to have a BMW Z4 GT3 on pole. It shows that this car is very quick. It was great fun to drive on a clear track. Like every other racing driver, I would obviously have liked to have been right at the front, but qualifying is not the be all and end all. We have a good starting position for the race."
Jens Klingmann (BMW Team Vita4One, car number 18):
"Our goal was to qualify in the first 15, which we did. So we can be happy with what we achieved. It was a very tough qualifying. I never thought that everyone would be so quick particularly those at the front of the field. The car is very good and reliable, as we have already seen in the VLN. We are confident ahead of tomorrow's race."
Maxime Martin (Marc VDS Racing Team, car number 29):
"That is a great result, which we are very happy with. What really matters, however, is to be at the front at the end of the race. Although this is our debut here, we know the Nürburgring from the VLN and are optimistic that we can get a good result."