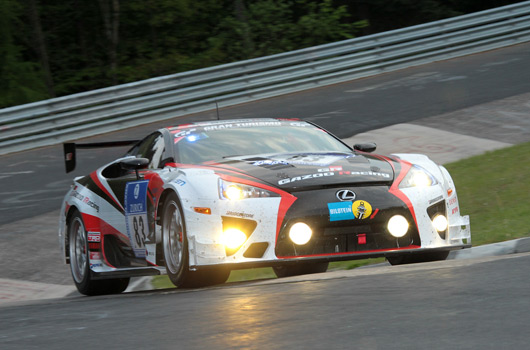 Toyota's Gazoo Racing team sent three cars to the Nürburgring for the 24 hour race. Heading the list was the #83 Lexus LFA in the SP8 class, supported by a pair of GT86s in the SP3 category.
So they'd be pretty happy with their return of two class wins. The Lexus LFA headed the #005 Aston Martin V12 Zagato by a total of 10 laps, for an overall finish of 15th. While the #165 GT86 managed to edge ahead of its closest competitor, the #167 Renault Clio, winning its class and finishing 46th outright.
In addition the Toyota Swiss Racing Team had two GT86s entered in the production-based V3 class. Their #201 car had a bad result retiring after only 11 laps, but the #200 made up for things by winning the class and coming home 78th overall.
Toyota's official word can be read after the break, accompanied by a small gallery of pics.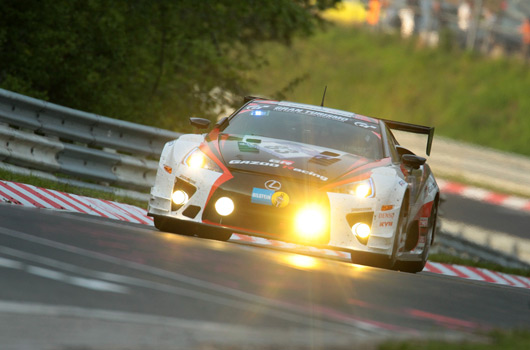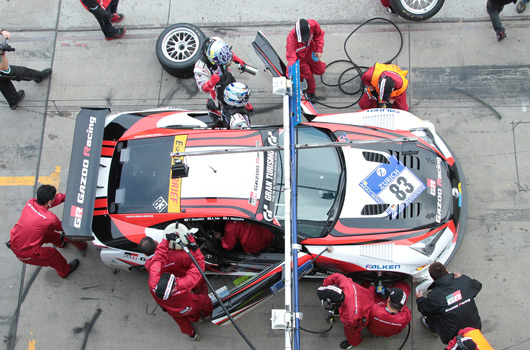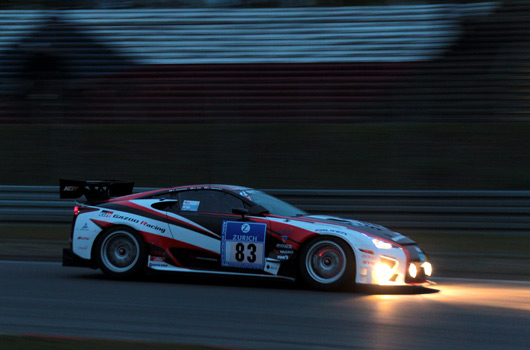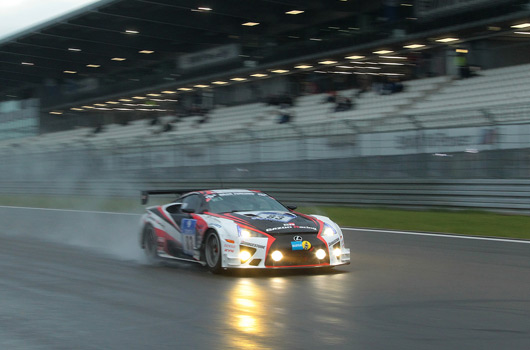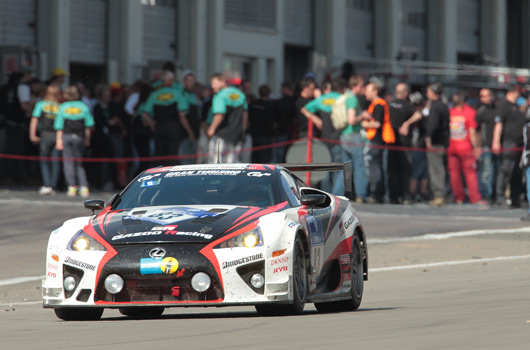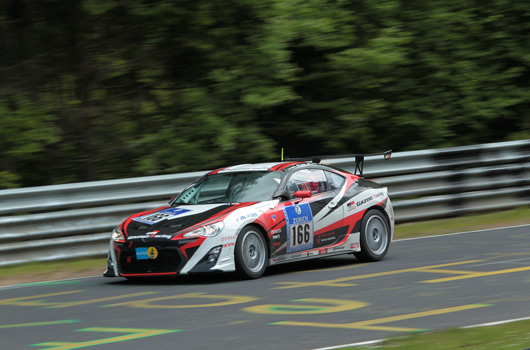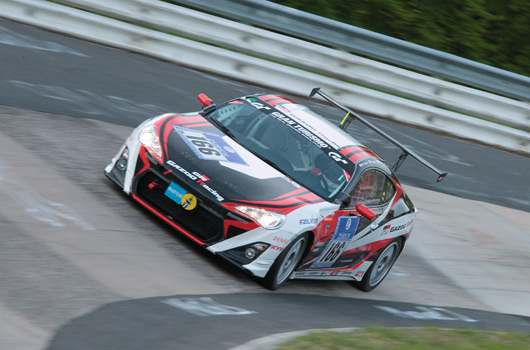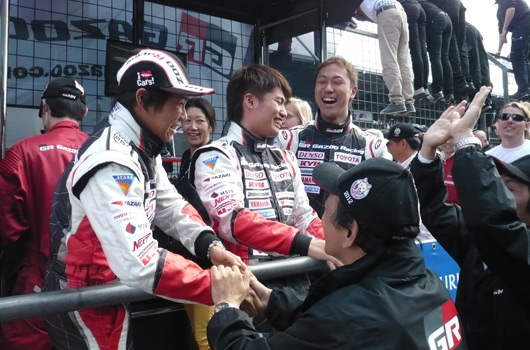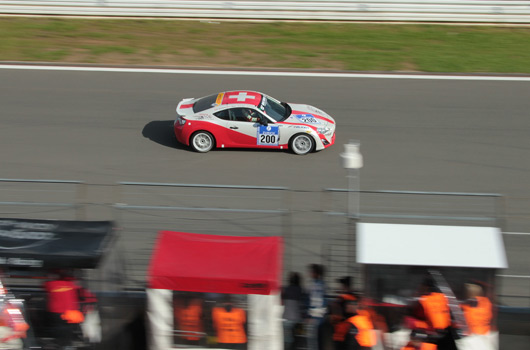 Toyota GT86 celebrates double class win at Nürburgring 24 hours race
GAZOO Racing Toyota GT86 wins SP3 class

Toyota Swiss Racing Team Toyota GT86 wins V3 class

GAZOO Racing Lexus LFA wins SP8 class
Toyota are celebrating after class wins for the GT86 at the 40th ADAC 24 Hours Nürburgring race.
The GAZOO Racing Toyota GT86 took the win in the SP3 class, completing 129 laps. In the overall standings, the car finished in 46th place.
In the 'close-to-production' V3 class, Toyota Swiss Racing GT86 finished 1st, completing 119 laps. In the overall standings the car finished in 78th place.
Production of the GT86 for Europe started in April this year, and success in the car's first 24-hour races bodes well for the future racing activity of small teams and individuals alike.
Lexus were also celebrating a strong result, with the GAZOO Racing Lexus LFA taking 1st place in the high-performance SP8 class. After surviving a few minor incidents, and posting a quickest lap time of 8:44.636, the GAZOO Racing Lexus LFA ran reliably and consistently throughout the race, and 15th place in the overall standings.
Results for Toyota / Lexus vehicles in 40th ADAC 24h Nürburgring race
| Class | Car | No. | Pos (Class) | Outright | Laps | Fastest |
| --- | --- | --- | --- | --- | --- | --- |
| SP8 | GAZOO Racing Lexus LFA | 83 | 1 | 15 | 147 | 08:44:636 |
| SP3 | GAZOO Racing Toyota GT86 | 166 | 1 | 46 | 129 | 10:22.014 |
| SP3 | GAZOO Racing Toyota GT86 | 165 | 6 | 65 | 125 | 10:28.716 |
| V3 | Toyota Swiss Racing GT86 | 200 | 1 | 78 | 119 | 10:50.821 |
| V3 | Toyota Swiss Racing GT86 | 201 | DNF | DNF | 11 | 11:01.659 |
GAZOO Racing Lexus 'LFA' and Toyota '86' Place First in Class at Nürburgring
Toyota City, Japan, May 21, 2012—Toyota Motor Corporation (TMC) announces that its GAZOO Racing Lexus "LFA" placed first in the vehicle's respective class at the 40th 24-Hours of Nürburgring endurance race in Germany, held from May 17 through May 20 (local time). A Toyota "86" also finished first in class.
Out of 169 participating vehicles in the finals, the LFA (car no. 83) driven by Takayuki Kinoshita, Akira Iida and Juichi Wakisaka placed first in the SP8 class and 15th overall. The 86 (car no. 166) driven by Hiroaki Ishiura, Kazuya Oshima, Takuto Iguchi and Minoru Takaki placed first in the SP3 class and 46th overall.
A second 86 (car no. 165), driven by Masahiko Kageyama, Kumi Sato, Yoshinobu Katsumata and Minoru Takaki, placed sixth in the SP3 class and 65th overall.
The LFA placed 32nd overall in the preliminary round on May 18, but performed well from the start of the finals to achieve 20th position overall and first in class. Although forced to make a pit stop due to contact with another vehicle, the LFA still managed to finish the race and take 15th place overall.
With aims of broadening the appeal of car racing, fostering more car enthusiasts, and developing human resources, TMC, as part of its initiatives to develop ever-better cars, participated with the GAZOO Racing team in this year's 24-Hours Nürburgring endurance race.
This year's GAZOO Racing team also featured TMC employees working as mechanics and drivers for the 86. A large portion of the 25-kilometer Nürburgring course is considered important in vehicle development because its harsher conditions allow for more thorough testing than is possible with conventional evaluations. TMC employee participation in the race allows them to gather knowledge firsthand and apply it to making ever-better cars.