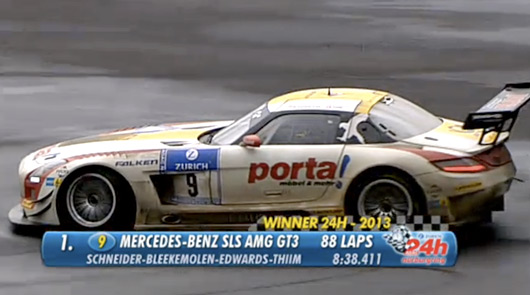 The #9 Black Falcon Mercedes-Benz SLS GT3, driven by Bernd Schneider, Jeroen Bleekemolen, Sean Edwards and Nicki Thiim, has won a dramatic Nürburgring 24 hour race. Can there ever be any other kind?
Around nine hours were lost to rain and fog, but the time that was left delivered a worthy endurance test. Amazingly, it is the first win at the Nürburgring 24 hour race for Mercedes, Black Falcon and Bernd Schneider—all established stars of endurance racing—and we salute them for their well-deserved victory.
Special mention, too, for Jeroen Bleekemolen who departed mid-race to be with his wife for the birth of their twins. No, we're not joking!
In second place, with a charging Maxime Martin at the wheel, was the #25 Team Marc VDS BMW Z4. Martin was one of the main stars of this race. He put in a sterling performance at the restart to take the lead from Aston Martin.
As the 24 hour mark was closing in it looked like Mercedes would clean sweep the podium, but Martin interrupted the party by reeling in the two Rowe Racing Gullwings in spectacular fashion. Perhaps, if the charging BMW driver had another 20 minutes or so he may have been able to pressure the #9 car as well. If nothing else we thank him for the exciting finish to the race.
That left the two Rowe Racing Mercedes and the small matter of a podium place to fight for. Despite a fine scrap that saw positions swapped the #23 car had to pit for extra fuel, leaving the #22 machine to claim third place.