For all their recent success, including five wins in the years 2006–2011, Porsche has walked away from the 2013 Nürburgring 24 hour race unfulfilled.
The best they could manage was seventh place in the #18 911 GT3 RSR driven by Timo Bernhard/Romain Dumas/Marc Lieb/Lucas Luhr, all multiple winners at the Ring with the Manthey Racing team. The only consolation for Porsche is the #18 car won the SP7 class.
Oh well, Porsche has provided some of the best pics from the race we've seen, which you can also enjoy after the break.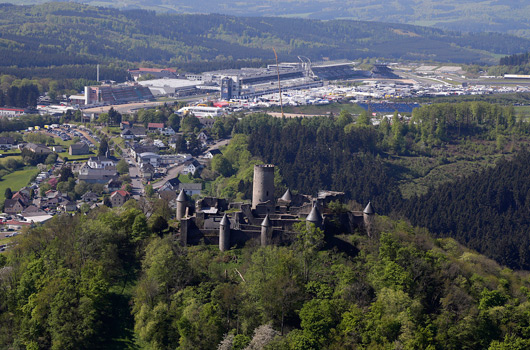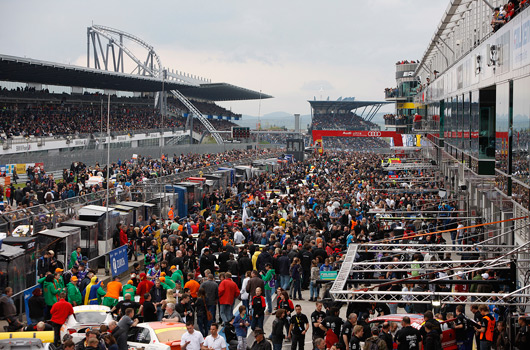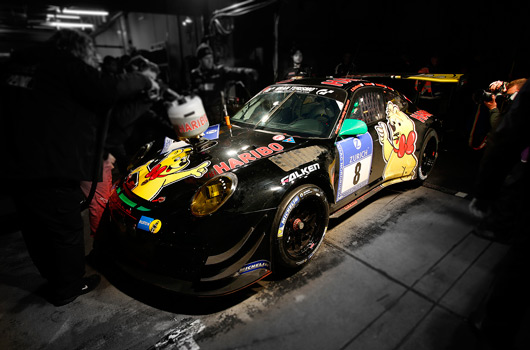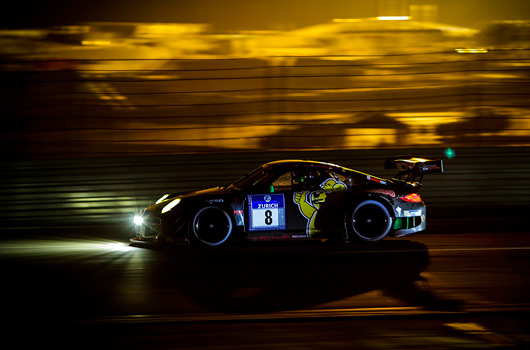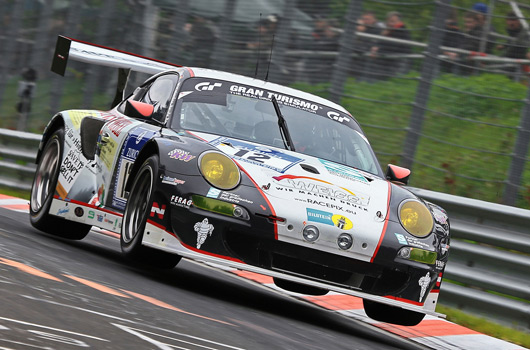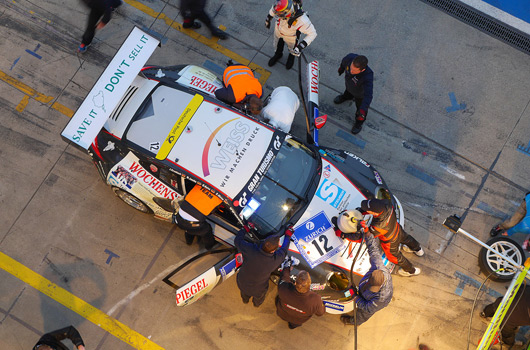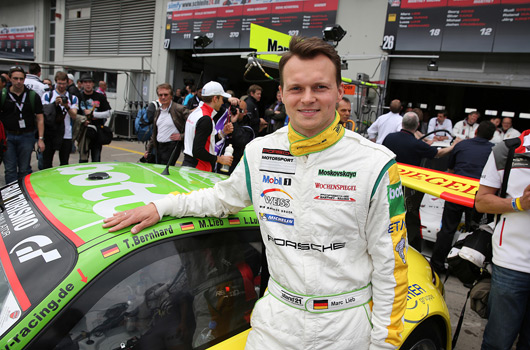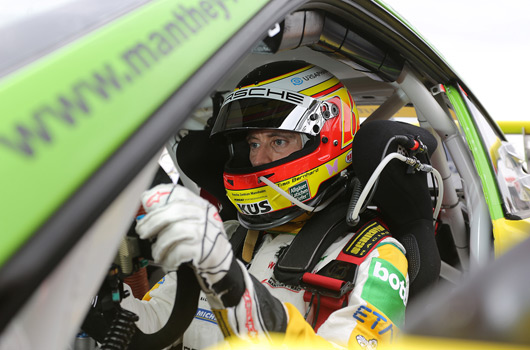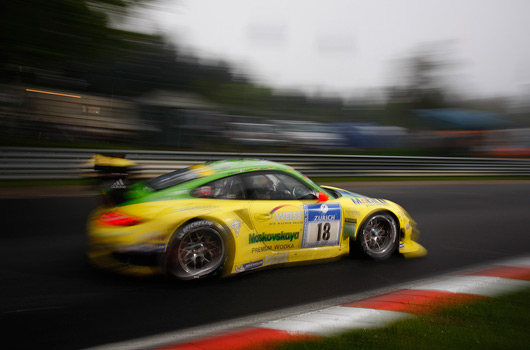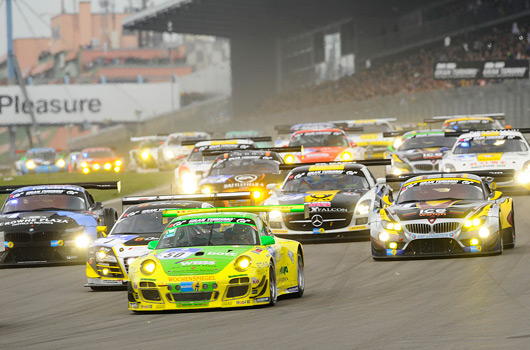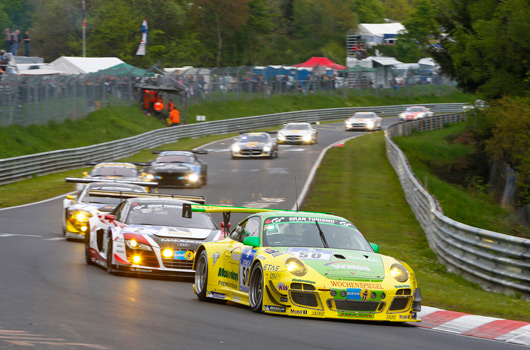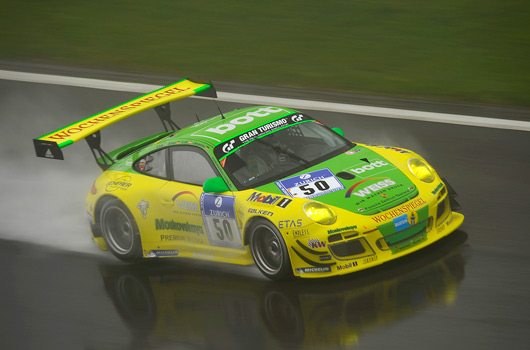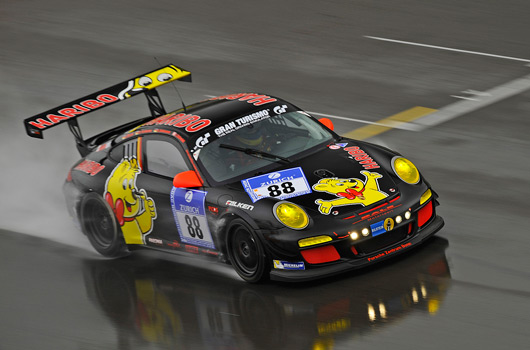 Nürburgring 24 hour race
Best Porsche through rain chaos to finish seventh
Stuttgart. Rain, fog, red-flag, restart – the 41st running of the Nürburgring 24 hour race demanded a great deal from Porsche customer teams. Under extremely unsettled conditions, the best-placed Porsche – a 911 GT3 RSR fielded by Team Manthey Racing with drivers Timo Bernhard (Germany), Romain Dumas (France), Marc Lieb (Germany) and Lucas Luhr (Switzerland) – won the SP7 class and scored seventh overall. The 911 GT3 R of Manthey Racing with pilots Jörg Bergmeister (Germany), Marco Holzer (Germany), Richard Lietz (Austria) and Nick Tandy (Great Britain) took the flag in eleventh place.
In front of 210,000 spectators, Germany's greatest automobile race got underway on Sunday at 17.00 hours at first under dry conditions. Right from the outset, the Porsche customer teams were up with the play, matching the pace of the front-runners. In the late evening when the rain set in, the 911 GT3 RSR of Bernhard/Dumas/Lieb/Luhr and the 911 GT3 R of Bergmeister/Holzer/Lietz/Tandy were already running one behind the other in positions two and three. At 22.44 hours the race was halted for around nine and a half hours due to heavy rain and at times minimal visibility caused by fog. "The race director made totally the right decision, because the grip and visibility were more than borderline at this stage," says Marc Lieb.
At 8:20 hrs with the rain easing, the race was restarted. "Unfortunately at this stage we had not a lot of luck with the tyre choice. The track dried up quicker than we had expected," explains Timo Bernhard after his first stint. Ultimately, the successful quartet in the 911 GT3 RSR of Manthey Racing brought home seventh place and was also the best-placed car in the SP7 class. "With a little more luck we could have finished further up the field, but victory for us in such weather conditions was not possible this year," says Romain Dumas.
Luck was also not on the side of the works driver quartet Bergmeister/Holzer/Lietz/Tandy. Three hours after the restart, the 911 GT3 R had to make an unscheduled pit stop for minor transmission repairs. "The mechanics did a sensationally quick job," comments Nick Tandy. "But it put us more than two laps down. It's a real shame because prior to the race being red-flagged we were fighting for a podium spot."
"The 911 GT3 R of our customer teams have shown a very good performance overall. The vehicle of Manthey Racing unfortunately had a small problem with the gearbox and lost almost three laps because of this," analyses Porsche Head of Motorsport Hartmut Kristen. "With the 911 GT3 RSR in the SP7 class, the set-up did not work particularly well in the changeable weather conditions."