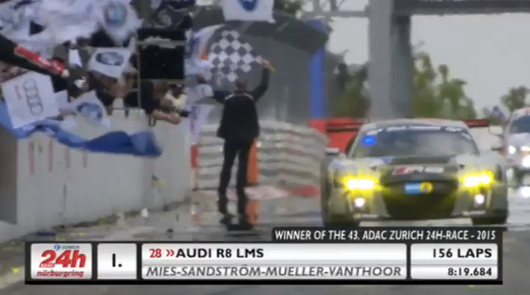 The Nürburgring 24 Hour race debut of the all-new Audi R8 LMS went very much to plan with the #28 Audi Sport Team WRT entry claiming victory after controlling the last six hours of the race. It is Audi's third win at the N24 and an R8 has claimed victory in three of the last four races.
While today's was a victory that looked safe in the closing stages for the Audi, the winning margin of 40.7 seconds from the #25 MarcVDS BMW Z3 GT3 is the narrowest in the race's 43-start history.
Porsche claimed the final podium position with the #44 Falken Motorsports Porsche 911 GT3 R.
The relative calm enjoyed after sunrise belied the drama that took place overnight with rain and accidents causing chaos at the head of the field.
In the end a total of 156 laps were covered, three less than last year's distance record. That's a very good effort given the 2015 race saw the introduction of speed limits in three sections of the track (200km/h at Flugplatz, 250km/h at Schwedenkreuz and 250km/h at Döttinger Hohe) in reaction to the tragic crash which claimed the life of a spectator in the VLN1 race back in April.
Thankfully there were no major incidents in today's 24 Hour race and it remains to be seen how much longer the speed limits  will stay in force.
For now though, congratulations to the winning Audi team. May your well earned celebrations go long into the night.