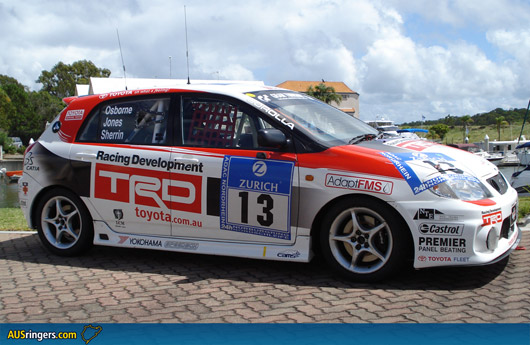 Colin Osborne, current CAMS president, and keen racer in his own right, has just packed up his trusty Osborne Motorsports Toyota Corolla to the brim and sent it off to Germany for the 36th Nürburgring 24 hour race, to be held over the weekend of 22–25 May 2008. He was kind enough to spend a quiet Sunday afternoon on the phone to AUSringers to let us know what's involved in tackling one of the world's most prestigious 24 hour enduros.
This will be Colin's fourth drive at the Nürburgring 24 hour, and for 2008 he will be joined by Nordschleife rookies Stu Jones and Iain Sherrin. Both Stu and Iain are well known within the MINI community having competed in R53 MINI Cooper Ss at various club events and tarmac rallies over recent years. Indeed, Iain Sherrin is currently competing behind the wheel of an R56 MINI Cooper S in the 2008 Australian MINI Challenge. All three drivers have extensive front wheel drive experience and, with enough laps around Bathurst, the two rookies have as good a preparation for the Nürburgring as one could hope for in the Southern hemisphere. Of course, nothing can prepare you for a Ring debut that will see you sharing the track with well over 200 cars in conditions that could well include heavy rain and dense night time fog. Don't worry chaps, I'm sure you'll be fine!
After coming back from the 2007 Nürburgring race the Corolla was sent to the panel shop for a few touch ups and the mechanicals were stripped out and replaced with new items. It was a pretty comprehensive overhaul with a new engine, transmission, clutch, light weight flywheel, driveshaft being attended to, among others.
The car has had limited track and road testing since completion, but has some solid dyno testing behind it with tests confirming around 153kW (205hp) at the wheels, or an estimated 186kW (250hp) at the flywheel. That's pretty impressive for a normally aspirated 'Rolla. Weighing it at around 1020kg dry, or approximately 1170kg with 75 litres of fuel and driver, the power to weight ratio is not too shabby. Other modifications include a custom exhaust and a new four-pot Willwood brake kit, selected as much for conservative pad wear during race conditions as for their sweet-mother-of-Jesus stopping power.
Colin's team will be running Yokohama A048 semi slicks, and all going well, they should get the full 24 hours from the rears and go through no more than three sets on the front. Perhaps more impressive is the fact the car is capable of running the entire race on a single set of brake pads, as done in 2005.
Including the Nürburgring Grand Prix circuit, the team is aiming to lap the 24+ kilometres in around 11 minutes and 30 seconds. With contingencies, and a stress free race, that should see the lads complete well over 100 laps. Refuelling is by a conventional petrol station bowser setup. The good news is, this takes a few minutes to complete, so that leaves plenty of time for driver changes and the like. The bad news is, each bowser is shared by as many as seven other competing teams. So it could get quite busy on the forecourt then!
A driver stint can be no longer than 2 hours and 40 minutes. With such a long lap distance and the possibility of vastly contrasting track conditions, the timing of pit stops is much more critical than racing at shorter circuits. Especially when a team is penalised two laps for every minute over the maximum driver allowance. Ouch! Past experience sees the team generally operate on a two hour plus one lap strategy. This allows some room to move if there is an accident on track or a team miscommunication.
The team is entered in the SP 3 class, which is one of the most eagerly fought in the race with over 35 competitors in the group. "It's an event in itself" said Colin. The class winner should finish inside the top 20 overall. With good weather and a trouble free race Colin hopes to finish in the top 70. Remember, the starting grid will see over 220 entrants.
Last year's winner, the Manthey Racing Porsche 997 GT3-RSR, had a best lap time of 8:50.170, so there is quite a discrepancy across the field and the closing speed of the faster cars can be a little hair raising, shall we say. However, Colin explained that most drivers are pretty good although some can get "a little enthusiastic" with their overtaking moves. Fortunately, the Osborne Motorsports Toyota is pretty robust and can withstand a few bumps and bruises.
The 2007 race was unique in that not only was the race start delayed due to thunderstorms, but it was also red flagged for six hours due to heavy fog. Colin recounted, "visibility on the main straight was no more than fifty metres and we weren't game to go any faster than 160km/h." Under the circumstances, that sounds plenty quick enough to me, thanks all the same! Colin told me how their car had some trick fog lights that made it a bit easier to pick up the apexes and kerbs in the arduous conditions. Still, when there wasn't a car in front, "it took "guts and bravado, or maybe it was foolishness to overcome one's fears."
We spoke a bit more about the logistics of the event, which is fascinating in itself, given pretty much the only thing the team doesn't send over from Australia is fuel. As noted in the intro, the car is already on its way by ship. The Corolla is sharing digs with Tony Quinn's Porsche and the container is due to arrive at Nürburg on Tuesday 20 May. Colin and his team fly out on 19 May and should arrive at the track, via Frankfurt, around the same time as their car and equipment.
The Tuesday itinerary will be pretty hard yakka with unpacking and getting everything ready for the race, including some track time for testing. On the Wednesday the team plans to have some R&R and hopes to head out to Toyota's F1 headquarters in Cologne, which is just down the road from Nürburg. While the guys aren't a fully backed Toyota outfit, they have enough of a link to see that, time permitting, they should get a personal and very comprehensive tour of Toyota's F1 set up, including their wind tunnel and the like. Sounds all a bit like a boy's own adventure really!
Thursday through Sunday is spent back at the Nordschleife, with the race kicking off on the Saturday afternoon.
Colin's team consists of the three drivers, plus five crew. As a rule the guys will buddy up with one of the other Australian teams so that if things do go pear shaped they can count on a few extra hands if required. There's a pretty good camaraderie among the Aussie teams and it must be nice to count on a familiar face, especially for guys competing at the Ring for the first time. As already reported on AUSringers, Australian 24 Nürburgring race pioneer Mal Rose will be back in 2008 with his V8 Supercar. The Germans go nuts for the Commodore apparently, so much so they painted an Aussie flag on the armco at the Karussell. Nice touch!
The presentation of the many of the Australian teams is of a very high standard and the locals have been well impressed with Colin's Corolla in previous years. This feedback gives Colin and his crew a real sense of pride, as you can imagine.
As much fun as this whole experience sounds there is always a sting in the tail when it comes to footing the bill. That said, when you consider the magnitude of shipping over the car, along with a spare engine, gearbox, drive shaft, front splitter assembly and other associated parts the costs aren't too outrageous. From go to woah the team has budgeted AU$90,000 which is generally split equally among the three drivers. As well as the entry fees, fuel for the race and shipping, this money covers all accommodation, meals, air fares and remaining general expenses. Travel and freight alone takes up about a third of the kitty.
The car itself belongs to Toyota, but as noted, all other costs are covered by the team, in what is a very much a privateer outfit. Albeit, a very professional one. Actually, the Corolla is a pre-production test mule and I reckon it's great to see that the car is leading a meaningful existence, rather than meeting the fate of the car crusher which many pre-production cars suffer.
The guys are shipping the car over using Gibson Freight, who also take care of the V8 Supercar fleet and the Formula 1 cars when they come to Australia. With such a tight schedule Colin assured me that freight is one area that you want remove any possibility of headaches right from the start. The old adage of "you get what you pay for" is definitely the case here. Apart from all the car related paraphernalia, the team also packs it's own pit garage in the form of a portable canopy. Spending over 38 hours at the track on "race day" means they also take cooking equipment along with chairs and tables and so on. I was amazed at what a fully self sufficient scenario the team runs. It's pretty much as if they're just heading down the road to Wakefield Park!
Once the race is over, the team will be going hell for leather to get as much of the packing up completed as possible before heading off for a post-race shin dig, which is a great opportunity for everyone to relax and let their hair down. Packing up is finalised on Monday morning and once the shipping container is secured and ready for the journey home the guys can finally enjoy a few soothing ales. All before catching a flight home from Frankfurt at midnight the same day.
You know, this fly in, fly out, Nürburgring racing caper almost sounds like hard work!
A big thank you to Colin for being so generous with his time and on behalf of myself and all AUSringers readers I wish Osborne Motorsports, and all the other Aussie teams, a safe and very enjoyable Nordschleife experience.
Images supplied with thanks to Colin Osborne, these were taken shortly before the car was shipped to Germany.
To read about Trevor Keene's experience in this car from 2006 click here for an exclusive AUSringers interview.
You can also read Bill Sherwood's own account from his 2007 experience here (thanks for the link Bill).