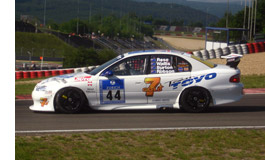 Attention to all Sydney readers: AUSSIES IN NURBURGRING DOCUMENTARY TO AIR ON TVS
Mal's Big Green Hell, the adventures of a group of Australian racers, featuring Aussie Nürburgring pioneer Mal Rose, at Germany's famous 'Green Hell' race circuit, will be telecast on TVS (Channel 31 ).
This will be aired from Thursday 8.30pm May 1st and then each week after (Thursdays at 8.30pm) with repeats on Saturdays at 11.30pm and 1.30am on Wednesdays. The series is a total of five 30 minute episodes. Produced locally by Stuart Greaves, it features footage and interviews, including Sabine Schmitz, from the 2006 Nürburgring 24 hour race. Make sure you don't miss it!