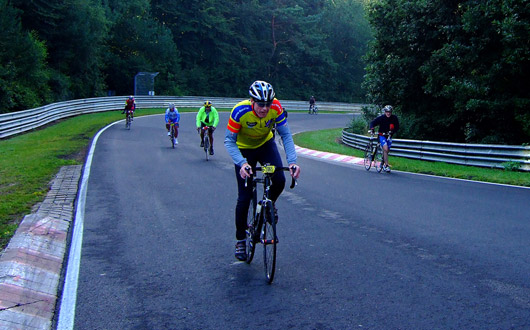 On the weekend of 23-24 August the Nürburgring was closed to 'normal' traffic for the annual Rad am Ring / Run am Ring event where participants cycle and run around the Nordschleife. There are a variety of classifications open to competitors of all ages and skill levels. What better way to see the Grünne Holle up close, and very personal. Well, until you're on the climb out of Ex Mühle, through Kesselchen, then the Karrussel and up to Hohe Acht. You can see from the graphic below that there is a rise of some 250m+ in a 4 kilometre stretch. Hard yakka, in anyone's language!
Thanks to Paul Sweeney from the UK (via Flickr) for the images you see here. Paul took part in the cycle leg and some of his photos from around the track are stunning, especially the last two which really capture the aura of the Nordschleife. Paul completed 4 laps on his bike, which is a mighty fine effort. I came across Paul's involvement in Rad am Ring via the Ringers forum and this is a great quote from him, "What an experience! Simply the most thrilling time on the Ring, no question and the rush of hitting 51mph (82km/h) at the Fuchsröhre on lap 2 will stay with me for ages!"
I remember the first time I drove down Fuchsröhre in a car and that was spooky enough, so I imagine hurtling down at full speed on a pushbike must be an amazing experience.
Some more pics below, and for a more detailed report of cycling around the Nordschleife read Ben Lovejoy's account from 2007, it starts about one third down the page. More images from the Rad am Ring 2008 can be seen on Flickr.
Graphic extracted from announcement PDF at Rad am Ring website.