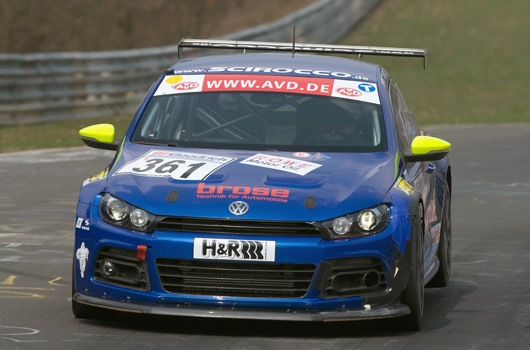 The Volkswagen Scirocco GT24 is well underway with preparations for a return to the Nürburgring 24 hour race. Volkswagen Motorsport will be hoping for another excellent showing, which last year saw the team claim a 1-2 class victory.
The team had a shoot out in the four hour VLN event last weekend. It's fair to say things didn't go entirely smoothly, with tyre problems forcig an early retirement.
[Source: Volkswagen Motorsport & VLN]
24-Hour Race Nürburgring 2009

First test race of the Scirocco GT24 on the Nordschleife
On its way towards the 2009 edition of the 24-Hour Race at the Nürburgring (23/24 May), the Volkswagen Scirocco GT24 completed its first test in racing conditions. At the BFGoodrich Endurance Championship opener on the Nordschleife, Carlo van Dam (NL), Congfu Cheng (CN) and Altfrid Heger (D) were forced to retire after two incidents of tyre damage. Volkswagen gathered valuable experiences with the 330-hp Scirocco that had clinched a one-two class victory at its 24-Hour Race debut last year. A week before, van Dam and Cheng had familiarised themselves with the world's most demanding race track during set-up runs.