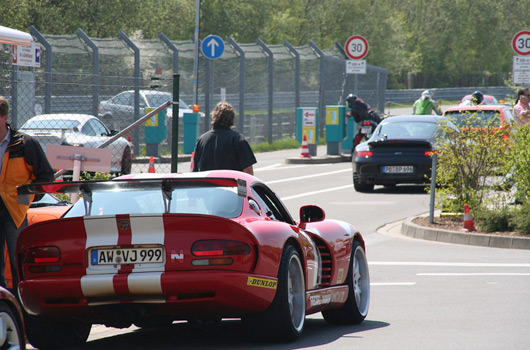 If you're reading this website you know that the Nürburgring Nordschleife is a seductive orgy of twisting tarmac that casts a spell over those who experience its pleasures for themselves. As evidenced by the fact that I run this website from the other side of the planet. You'll also probably know that AUSringers has a Your Story section that allows readers to share their experiences. There has been some great tales shared, so please do not hesitate to add your own story if you have ever been to the Ring.
With that said, it's a bit remiss of me to have not shared my own experience. Sadly, and amazingly, my Nürburgring story turns three years old today. Just like your first lap of the Ring, time goes very quickly. So, to celebrate the day I now call 'Nürburgring Day' you can read my story after the jump…
May 10, 2006
The opportunity to travel to Europe came courtesy of some friends getting married in Venice and it took me about three nano seconds to start planning a visit to Germany to pop my Nürburgring cherry.
So, car sorted, accommodation sorted and on the evening of May 9 when my wife and I arrived at our hotel in Döttingen the anticipation really started to build. Seeing a Porsche Carrera GT in the car park near our B&B only heightened my enthusiasm!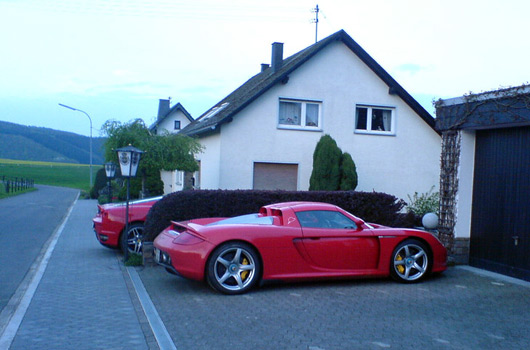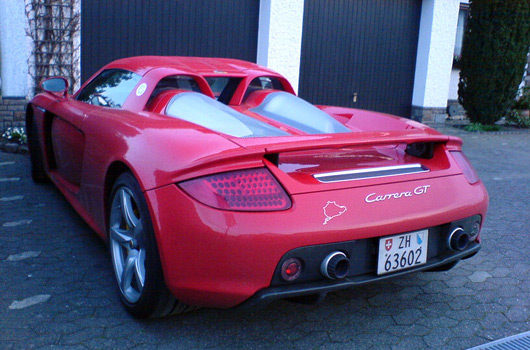 In preparation for my visit I had read so much about the Ring and could almost quote Ben Lovejoy's website word for word. I sat in front of my computer for what seemed like months and months watching countless hours of YouTube clips. The three main things I took from all this research were, 1) watch my mirrors for faster traffic; 2) indicate right and move over to allow quicker cars to overtake; and 3) don't go in too fast at Adenauer Forst!
Bright and early on a beautiful sunny Wednesday morning we arrived at the TF gates ready to go. After previously checking out the webcam I noticed that the early morning seemed to be a relatively quiet time at the track and we got there about 30 minutes after opening. I purchased a 4 lap ticket for EUR56 (2006 pricing).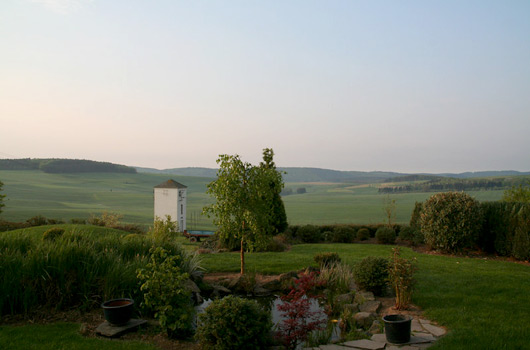 The view from our room at Pension Diana, Döttingen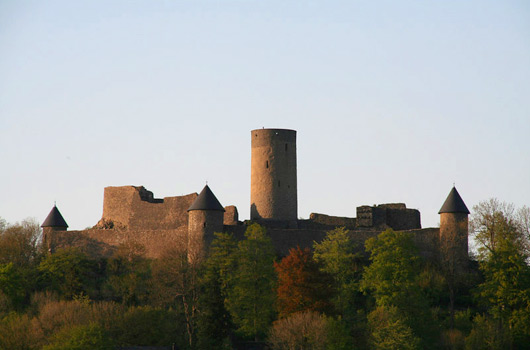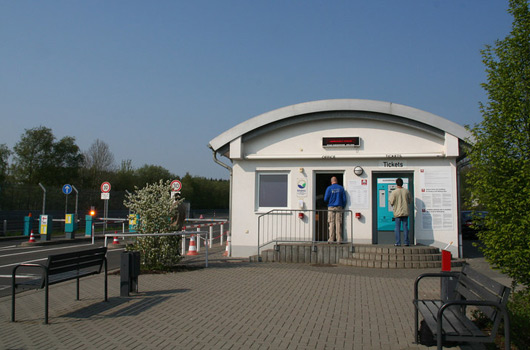 I had arranged with some mates back in Australia to keep an eye out for me on the webcam, so after buying my ticket I lingered in view of the camera for a while. This had as much to do with mentally preparing myself for what was to follow.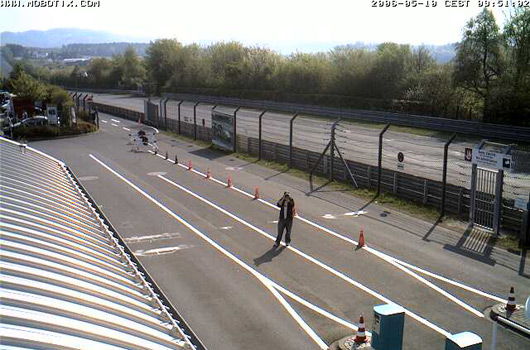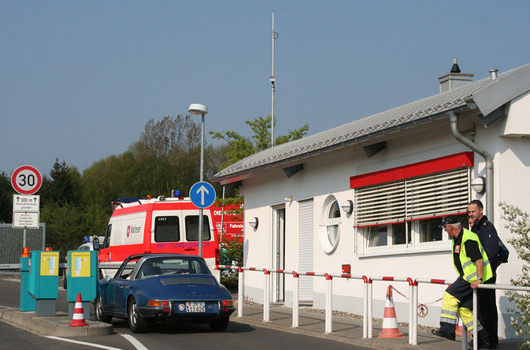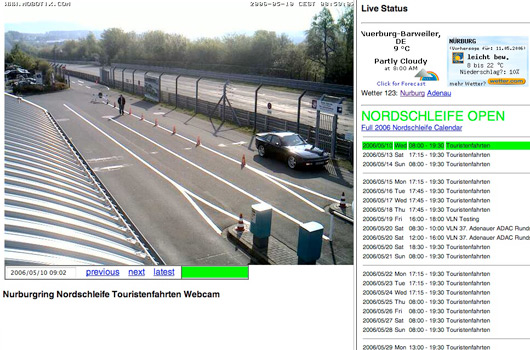 A lot of the material I had read researching the Nordschleife kept commenting on how dangerous and tricky the course can be, so I don't mind admitting I was a little nervous. I had watched lots of video and 'driven' the track a few times on PlayStation. To be perfectly honest, I reckon watching the videos was best for me, I can't say PS2 really helped me that much, and in any case one or two laps driven for real taught me so much more than the countless hours of video/PS2 ever did. I'd be more concerned with learning the protocols of driving the track and the local safety issues than getting too caught up in any of the simulator stuff.
So, the time was here. I placed my ticket into the machine at the boom gate with the nervousness of a guy asking a girl for a first date. I knew this could be one of the most memorable moments of my life, but I just wasn't sure if it was all about to go horribly pear shaped.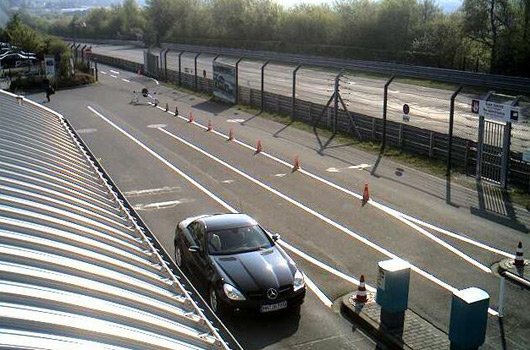 The moment came. The moment passed. And it is a moment that has indeed become one of the most memorable I have experienced to date. Best of all, it didn't go horribly pear shaped and I can boldly claim that I am not a seven second Ring hero!
The thing that surprised me most about my first lap was how quickly it went. The Nordschleife is over 20km and honestly, it felt only a tiny bit longer in time than I remember my first lap of Eastern Creek taking. In reality my first Ring lap took around 13-14 minutes, and my first lap of Eastern Creek would have been under 2 minutes 30 seconds. Such is the information overload lapping the Green Hell, that your brain just can't process it all quickly enough.
As noted I wanted to go out when the track was quiet and fortunately my theory paid off. I think we only got passed by one group of cars/bikes on the first lap. Although that didn't stop me from paying almost as much attention to my mirrors as I was to looking ahead to the next corner. It wasn't really until my third or fourth lap that I was getting comfortable with the quicker traffic speeding up from behind. My theory was, on a straight piece of track indicate right and move to the right of course to let them past, but in a corner, if possible, hold your line and so long as you get out of the way as soon as you can most people appear patient. Mind when there's a few corners in a row it makes it harder knowing when to hold your line and when to try and move over.
One funny moment occurred on my second lap. Being a Volkswagen fan I was pretty happy to see what was then a pretty new Mk5 Golf R32. I was even happier, then, when I caught and passed the car just after Hatzenbach. However, I was firmly put back in my place when not one, but two Toyota Yaris weapons passed me a few corners later, haha. Try as I might I could not hold back the awesome power of the Toyota 1.3 litre powered 'hot hatch'. Of course, this just highlighted to me that, no matter what car you are in, there will always be someone faster than you and the Ring is not a place for an over ambitious ego.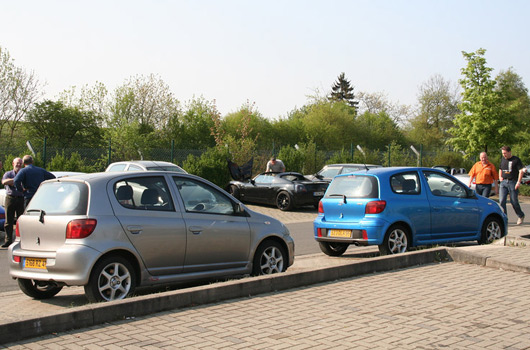 There are quite a lot of blind corners and rises that make it hard to know when to keep your foot flat and when to back off. Even though it is rightly stated that you need 100 or more laps before you really know the track, I found after a few laps in a row that my mind started to remember things pretty well. There's no way I could learn the best lines in that time, but I certainly removed a lot of the self doubt I had the first couple of laps. Because the Nordschleife is a one way track a racing line of sorts is reasonably well worn. This helped me a bit leading into the blind corners.
The Ring is well known for its changes in elevation, but nothing there compares to steepness of the climb and descent experienced when driving over the top of Mt Panorama for the first time, especially from Skyline to down Forest Elbow. This is not to say Bathurst is better, not by any means, but it shows, in a small way, that the mountain section of the Mt Panorama briefly holds its own with what is acknowledged as one of the best racetracks the world has to offer.
Oh man, the Karussel! That is as bumpy as guts and I'd hate to think what it must have felt like for my poor wife in the passenger's seat. It's pretty awful really, but you gotta do what you gotta do.
After the first lap I returned to the car park and clowned around in front of the webcam for a bit more, then went back out and did two laps in a row. On the second lap we came across an accident between an older 911 and one of the track prepped rental Alfa 75s. It didn't look too bad at all, well there was plenty of bent metal, but nothing to indicate any serious injury to either driver. However the course closed for about one hour and in total seven choppers came and went from the scene. That was pretty sobering, even though it was later revealed nobody was injured, seriously or otherwise. Still, hearing the choppers buzzing overhead for sometime really did bring home for real the dangers of the track.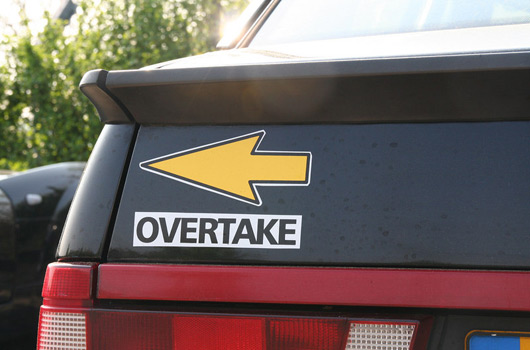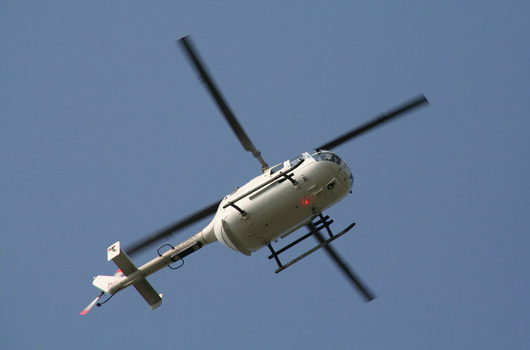 Throughout the day there were a handful of accidents that closed the track. I can't say for all of them, but most were two cars coming together during overtaking moves, as opposed to someone running out of talent all by themselves. And it was this fear of the faster cars from behind that was the only downside of the experience. To get continual laps of Nordschleife with no other traffic would be motoring nirvana, unable to be equalled by any other driving experience I reckon.
After the course reopened from the first crash it was about 10:30am and consequently there were a lot more cars ready to go out. Not surprisingly then, the three lanes (2 for cars one for bikes) leading on to the track were soon busier than Sydney peak hour. I felt discretion was certainly the better part of valour and decided not to go out again. Instead we went for a bit of a drive around to find some good vantage points to watch the cars driving on the track. Indeed, some of the roads around the circuit are great drives in their own right, the descent into the village of Adenau being the best we came across. The spectator area accessible from close to the Breidscheid Bridge also offers good viewing access to the track.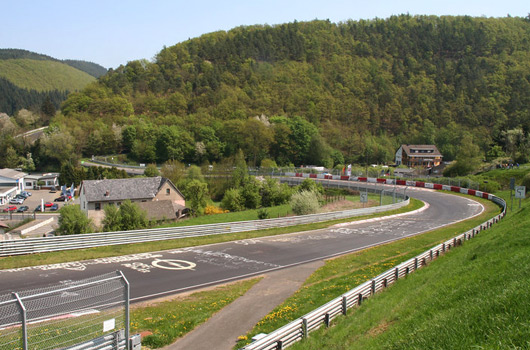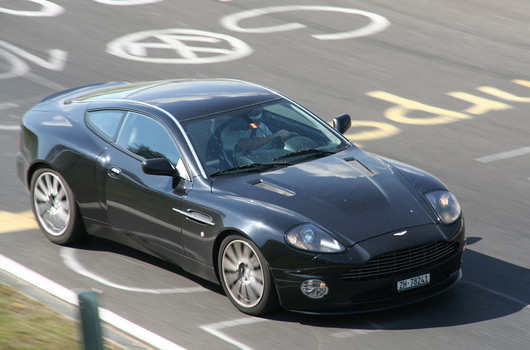 Oh, I haven't mentioned this yet, but the Nordshliefe has to be the best car spotting venue on earth. Easily the most common car were Porsche 911s and all varieties from 70s models best described as track beaters to a brand new 997 GT3 were there. Even a Carrera GT (different to the one at our hotel). Plenty of Ferraris too, well I think there were three F430s and a few 360s to go with. Enough RS Audi models to keep me happy, and of course plenty of old and new BMW models with lots of M badges circulating regularly. But there were some genuinely rare cars there, too, including a Plymouth Prowler and a new Ford GT40. Also giving the Nordschleife a good work out was a Volkswagen Tiguan test mule.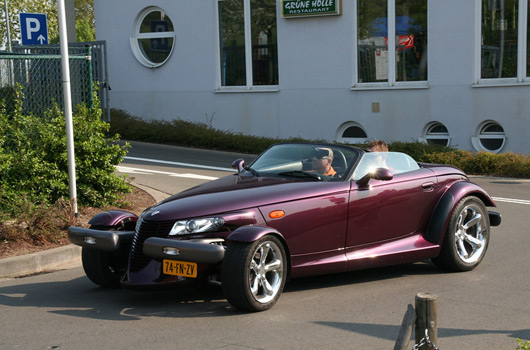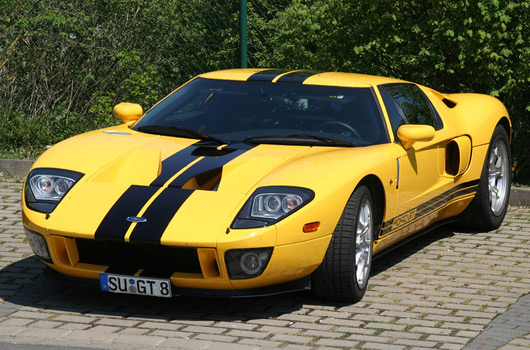 Apart from the aural pleasures of the newer cars (the Aston, Carrera GT and the F430s were the best sounding), it's actually the DRTs (Dedicated Ring Toys) that are best viewing entertainment. Typically, the DRTs are older 3 series Beemers, Mk2 Golfs or older 911s. These guys have generally stripped out their cars, added roll cages and know the track very, very well. The best highlights were watching these guys get close to, or even very momentarily, airborne over the last bump leading into the right hander at the end of the Pflantzgarten section. Simply awesome. And a few great saves as well! Cars don't tend to brake that well when wheels aren't touching the ground.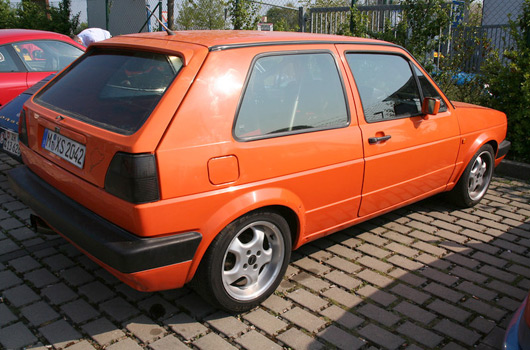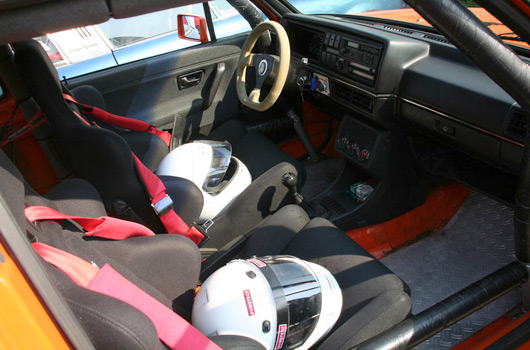 We spent the best part of six hours either driving around neighbouring villages or watching by the side of the track. And when there was no action because the track was being cleared of damaged cars things did drag on a bit. It certainly gave me time to think that I was a bit of a plank for travelling half way around the globe to drive around a racetrack. However, at about 6pm when most of the exoticar Playboys were heading home—there was a Scuderia Hanseat course the next day and entrants were given free track access on the day we were there—I went out again and all my earlier doubts went out the window. With renewed confidence and a quiet track I was hooked.
It is just such a great circuit and so long as you take to the circuit with the right attitude it rewards you in so many ways, regardless of driving ability. Mind, you can't help but think how much more fun one would have with greater track knowledge. Of course, travelling from Australia the ability to take my own car was impossible and I will remain intensely jealous of those who are able to drive their own car around the Nordschleife.
Still six laps, or more pertinently, over 120 kilometres of track time on the Nordschleife in an unfamiliar car is one I would not trade for anything. I really cannot wait to go back. It may take five, even 10 years, but I want to relive this experience as many times as possible.
And that is really the best way to describe driving the Nordschleife. You just can't wait for your next lap.