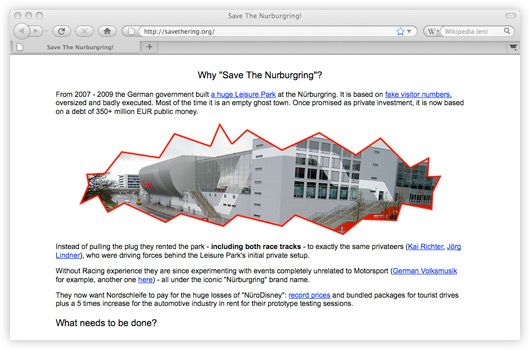 In addition to the Save the Ring Facebook presence a new website has also been launched. It's probably the best one-stop resource for getting a quick grasp of the problems at hand and giving you real ways to act in support of the Nürburgring and the great Nordschleife.
Here's a quick snapshot of the issues at play:
"Without Racing experience they [Nurburgring's private management] are since experimenting with events completely unrelated to Motorsport (German Volksmusik for example, another one here) – all under the iconic 'Nürburgring' brand name.
They now want Nordschleife to pay for the huge losses of 'NüroDisney': record prices and bundled packages for tourist drives plus a 5 times increase for the automotive industry in rent for their prototype testing sessions."
Follow the link below to check it out.
[Source: Save the Ring]