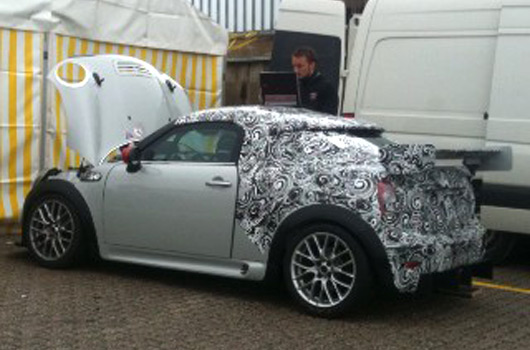 The build up to this year's Nürburgring 24 hour race has seen input from the usual crowd: Audi, BMW, Porsche, Volkswagen et al. However, MINI, too has been quietly simmering away with the slow release of information, which started earlier this year.
Until now, the car that MINI motorsport would be running was a mystery. Okay, with yesterday's release of official info and pics for the new MINI Coupé it became clear that would be the car MINI would use at the Ring this weekend. However, we've still not seen any official announcements coming from Munich.
But, thanks to a tweet from motoring journo Richard Meaden, it looks like the MINI Coupé 'Nürburgring racer edition' will be a stripped out ball tearer guaranteed to ruffle a few feathers. According to Meaden the MINI Coupé will weigh less than 1000kg and be powered by a 270hp (200kW) engine.
We want to know more! Expect full details to be revealed on the MINI motorsport website on Thursday. For now there's an official teaser pic and short release from MINI motorsport after the break.
[Pic: @DickieMeaden]
UPDATE: Reliable word informs us peak power for the 'Monster MINI' is more likely to be 250hp (approx 185kW).
Racing through the Green Hell.
The week of truth has begun; the excitement is mounting: This weekend's 24 Hour Race at the Nürburgring offers MINI fans a very special treat.
Racing through the Green Hell.
146 and 147 – Remember these numbers, for over a hundred thousand eyes will be trained upon them as MINI competes in this weekend's Nürburgring 24 Hour Race. Following their progress will surely pay off, for not only they are linked to a strong team with fast drivers, but to spectacular race cars, too.
At this point most teams have moved into their quarters at the legendary race circuit, honed their cars to perfection, and planned their strategies. In short: preparations are in their final stages, as they are for the entire MINI Motorsport Team. "We are looking forward to the challenges posed by the Green Hell," says Dirk Hollweg, Leader, MINI Motorsport. "It will certainly be a unique experience."
MINI fans have a further highlight to look forward to even before the official start of the Nürburgring 24 Hour Race, as the MINI race car entered in the event will be officially unveiled on Thursday morning. However, one thing is already clear: the new MINI is a real stunner, and powerful, too. To underscore its sporty qualities, the name John Cooper Works is appended.
Full details on the new MINI will be available immediately after Thursday's official launch, both here on the official MINI Motorsport website, and on our social media channels Twitter and Facebook. Naturally we will report fully throughout the race, which starts at 16 00 on Saturday. Checking in regularly with us will most certainly pay dividends.
Should the foregoing still not prove sufficient, then the car numbers 139, 142, 152, 153 and 154 are worth remembering, as these are also attached to MINIs competing in the race. The cars have been entered by Dörr Motorsport (139), Schirra motoring (142, 152) and s.i.g. Motorsport (153, 154), customer sport teams who have entered specially modified versions of the MINI in the SP 3T class of this long-distance classic event.
Hankering for more MINI? No problem: The support programme of the event in the Green Hell features the fifth round of the MINI Challenge Germany. Overall points leader Hendrik Vieth will be there. He narrowly leads the championship by 101 points to the 94 of Nico Bastian, with Fredrik Lestrup, who last time out celebrated his maiden MINI Challenge victory at the Sachsenring, being a further three points adrift. All three drivers are also entered in the 24 Hour Race.
Heaps of MINI power, in other words, and a true Green Hell adventure to look forward to. It will be spectacular; the countdown has begun …