This plucky little Toyota TMG EV P002 has knocked an astonishing 25 seconds from its own Nürburgring lap record. The new benchmark for electric powered vehicles now sits at a blindingly quick 7 minutes 22.329 seconds.
Jochen Krumbach was at the wheel again for this new record and the TMG crew are just a little bit pleased with themselves.
Ludwig Zeller, TMG General Manager Electrics and Electronics said: "Since our Nürburgring record last year, we have developed our electric powertrain to deliver more power, more consistently, over a longer distance by managing the temperature of batteries, motors and inverter."
But it's the advancements made in the recharging that Zeller is most pleased with. In fact the Radical-based P002 can be recharged from a unit in the back of the team's Hiace van.
"This achievement is not only about on-track performance; we are also very proud of the DC Quick Charger which again provided a reliable power supply in a remote location," said Zeller. "This is an aspect of electric motorsport which has not been discussed at length but it is very significant; electric race cars need to be charged and it is a challenge to have the right infrastructure at race tracks, particularly temporary street circuits.
"Together with our partners at Schneider Electric, we have developed a solution to charge a race car literally anywhere in the world. This, along with the TMG EV P002 powertrain, represents a major step forward for electric motorsport."
Video and pics are all yours after the break.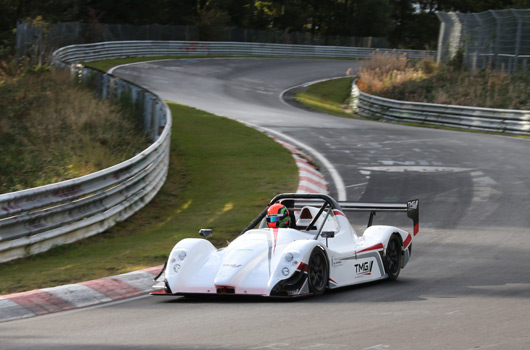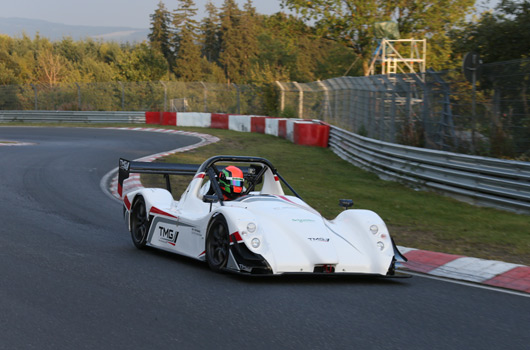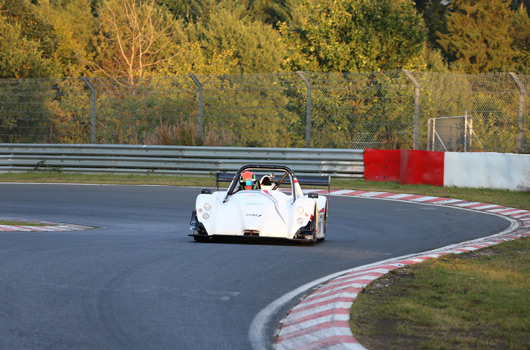 Toyota Motorsport GmbH break Nürburgring record again
Toyota Motorsport GmbH (TMG) continued its record-breaking success with the TMG EV P002 by setting a new electric record on the legendary 20.8km Nürburgring Nordschleife circuit in Germany.
Using TMG's motorsport-tuned electric powertrain, driver Jochen Krumbach set a lap time of 7mins 22.329secs, breaking the electric record set by TMG last August by over 25 seconds.
This achievement marks the second milestone for TMG's electric powertrain this year following its new record at Pikes Peak International Hill Climb in Colorado, United States.
As with the Pikes Peak success, TMG's latest electric milestone used pioneering off-board battery-to-battery charging technology.
The TMG DC Quick Charger was developed in partnership with Schneider Electric GmbH to meet the challenge of recharging an electric race car at tracks without reliable access to grid power.
Mounted in the rear of a TOYOTA Hiace van, the TMG DC Quick Charger uses Schneider Electric's EV Link technology and includes a 42kWh lithium ion battery, which can be charged direct from the AC power grid.
After an overnight charge, the TMG DC Quick Charger is able to quickly deliver high levels of power to a battery-based electric car without additional installation or infrastructure, making it the perfect solution for electric motorsport.
Ludwig Zeller, TMG General Manager Electrics and Electronics: "Since our Nürburgring record last year, we have developed our electric powertrain to deliver more power, more consistently, over a longer distance by managing the temperature of batteries, motors and inverter. Pikes Peak was a clear illustration of the improvements and we have now reinforced that at the Nürburgring. But this achievement is not only about on-track performance; we are also very proud of the DC Quick Charger which again provided a reliable power supply in a remote location. This is an aspect of electric motorsport which has not been discussed at length but it is very significant; electric race cars need to be charged and it is a challenge to have the right infrastructure at race tracks, particularly temporary street circuits. Together with our partners at Schneider Electric, we have developed a solution to charge a race car literally anywhere in the world. This, along with the TMG EV P002 powertrain, represents a major step forward for electric motorsport."