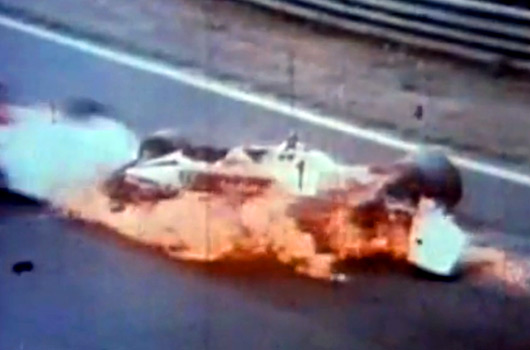 It's now over 30 years since Niki Lauda's horrific accident at the 1976 German Grand Prix held at the Nürburgring. In a recent article for the TimesOnline Austrian journalist Helmut Zwickl recounts the events. It is a moving article that truly brings home the dangers of motor racing, especially from an era where safety was something thought about after the cars were designed. Indeed, Lauda himself had been campaigning for improved safety measures at the Nürburgring before the race. And so it was some irony that Lauda crashed his Ferrari on lap two.
From the horror of the brutal crash emerges an inspiring tale of human bravery, not just in Lauda's subsequent return at the Italian GP in front of the tifosi at Monza, but also of the men who saved Lauda from his Ferrari fireball. Fellow drivers Brett Lunger, Arturo Merzario, Guy Edwards and Harald Ertl were responsible for extricating Lauda from his car and their ability to think calmly in such dire circumstances was an amazing feat. It is reasonably easy to surmise what the outcome for Lauda would have been had they not shown such fortitude. From Zwickl's article, Lauda says, "It must have been about 900 degrees. Thankfully, I don't know anything else about it."
Amazingly, despite the severe burns and following reconstructive surgery, Lauda, still leading the world championship, returned to Formula 1 racing just six weeks later. He missed only two races and took the wheel of his Ferrari at the Italian Grand Prix. Not only that, he narrowly missed a podium finish when he completed the race in fourth position. The final race of the year in Japan was held in heavy rain and Lauda withdrew from the race due to safety concerns. This action probably cost Lauda his world title as James Hunt scrambled to a third place finish and in doing so the Briton took the title by just one point.
Lauda's crash brought about the demise of the Nordschleife as a Grand Prix circuit. Formula 1 took an eight year leave of absence, returning to the new purpose built Nürburgring Grand Prix track in 1984. During that time much of the Südschleife was lost due to the new construction and, as far as Grand Prix racing is concerned, the "new" Nürburgring has not been held in quite the same regard since. In a recent interview with AUSringers, when asked if there was anything she would change about the track Sabine Schmitz said, "to change the GP Circuit back to Südschleife."
Shortly, I will post up a 13 page German article on Lauda's accident which will have selected text translated to English. It contains some graphic and confronting pictures of the crash, but I feel is worth posting as this incident plays such a large role in the make up of the Nürburgring's aura.
Below are two clips of Lauda's accident, the second is from an Italian TV interview, but also has some extra footage showing the actions of the drivers assisting Lauda from his car.
Further reading