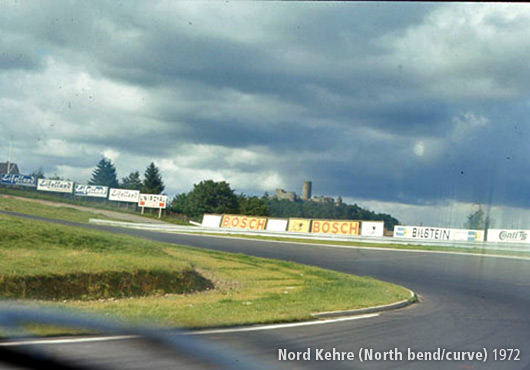 Here is a real treat for fans of the Nürburgring, a photographic diary of a Touristenfahrten lap from 1972. The images come via Bill Wagenblatt, a US resident who was living in Europe during the 70s. Bill's original post on his Track Thoughts blog includes over 100 images of the Nordschleife taken from the passenger's seat—a truly amazing effort, and one all fans of the Ring must be thankful for.
The lap starts from the old pitlane complex on what is now the Grand Prix track (refer to vintage map). From the Nord Kehre, shown above, the track turns left onto the Nordschleife we know today. One of the first things you notice is the lack of on-track graffiti. But you will also see just how much the track and surrounding vegetation has changed in the last 38 years. You can see this especially on the images from Fuchsröhre, Adenauer Forst and Döttinger Höhe, which was still lined with hedges. Of course, the other noticeable attribute from the pics is the lack of traffic!
There is a selection if images included after the break, but I cannot recommend highly enough taking the time to view and appreciate all of Bill's images.
[Source: Track Thoughts, via Bridge to Gantry]