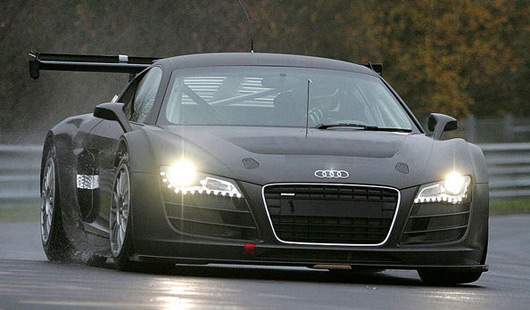 Audi's awesome R8 GT3 has recently been spotted in wet weather testing at the Nürburgring Nordschleife. Despite the presence of the small quattro badge on the front grille, GT3 racing regulations stipulate the car must be rear-wheel drive only and the purpose-built customer racecar is expected to produce at least 375kW (500bhp). The car is a collaborative project by Audi Sport, quattro GmbH and Audi Hungaria Motor Kft and is due for release in the second half of 2009.
The time set during this testing period were not blistering, the wet weather accounting for that. The best reported time was 8 minutes, 41 seconds. Quite a distance behind the current "time of the day" set by the Corvette ZR1 recently (7:22.4). No video of that lap has surafced yet, but you can watch the ZR1's 7:26.4 lap on AUSringers.
You can read more about the Audi R8 GT3 at AUSmotive.com. A link to more photos from the R8 GT3 in testing is below.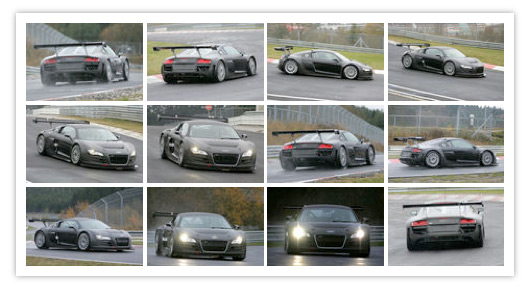 The above photos were sourced from German website Sport Auto. A a crude Google translation of their accompanying article can be read below, or you can access the original article HERE. (Thanks to Markus for the tip.)
In Action: Audi R8 GT3
At the Nurburgring Audi is currently testing its new R8 sports clients at heart GT3 and kidneys. At the wheel of the 500 hp strong Audi sits among other things, Audi factory pilot Frank Biela.
The Neuss on Tuesday (18.11.) On the legendary Nordschleife in the rain and low temperatures a lap time of 8:41 minutes succeeded. In comparison, the Corvette ZR01 North Loop is a time of 7:26 minutes beech.
Compared to the series, the Audi R8 customers athletes are not familiar with the all-wheel drive, V8 stemmt of its entire force on the rear axle – headed on a six-speed sequential gearbox. For the corresponding output ensures the powerful rear spoiler in personal union with the extensive diffuser. An extensive safety equipment completes the Rennausstattung of the Audi R8 GT3, for the upcoming season of 2009 motorsport is. For testing purposes, the new Audi wants Rennboliden in various European series to bring the start. Customers are manufactured in collaboration vehicles from Audi Sport and the quattro GmbH in Hungarian Gyor, and in Neckarsulm, where the series production is located.